Mom jeans have come back in style over the past few years, and aren't we all thankful? These popular jeans from the '80s and '90s are a complete style statement if you wear them right. Mom jeans are not just for moms anymore, but a wardrobe staple for both comfort and style.
Whether you are a mum picking up your kids from school or having brunch with the girls, mom jeans will never disappoint. If like me, you are looking forward to spring, then today I have two denim spring looks to share with you with the same base outfit.
The base outfit consists of blue denim mom jeans, a white shirt, a striped jumper, a white beret, white heels and a basket bag. And of course, it has a Parisian hint to it.
I just came from Paris look
You can take the girl out of Paris, but you can't take Paris out of the girl is how I would caption this look. Who knew that wearing your striped cardigan over your white shirt was a way to make it look so chic. And the mom jeans make the whole look so comfortable.
To make this outfit spring appropriate its always a great idea to carry a basket bag just like Jane Berkin's popular basket bag. The beret makes it easy to enjoy the windy weather, and the newspaper is optional, of course.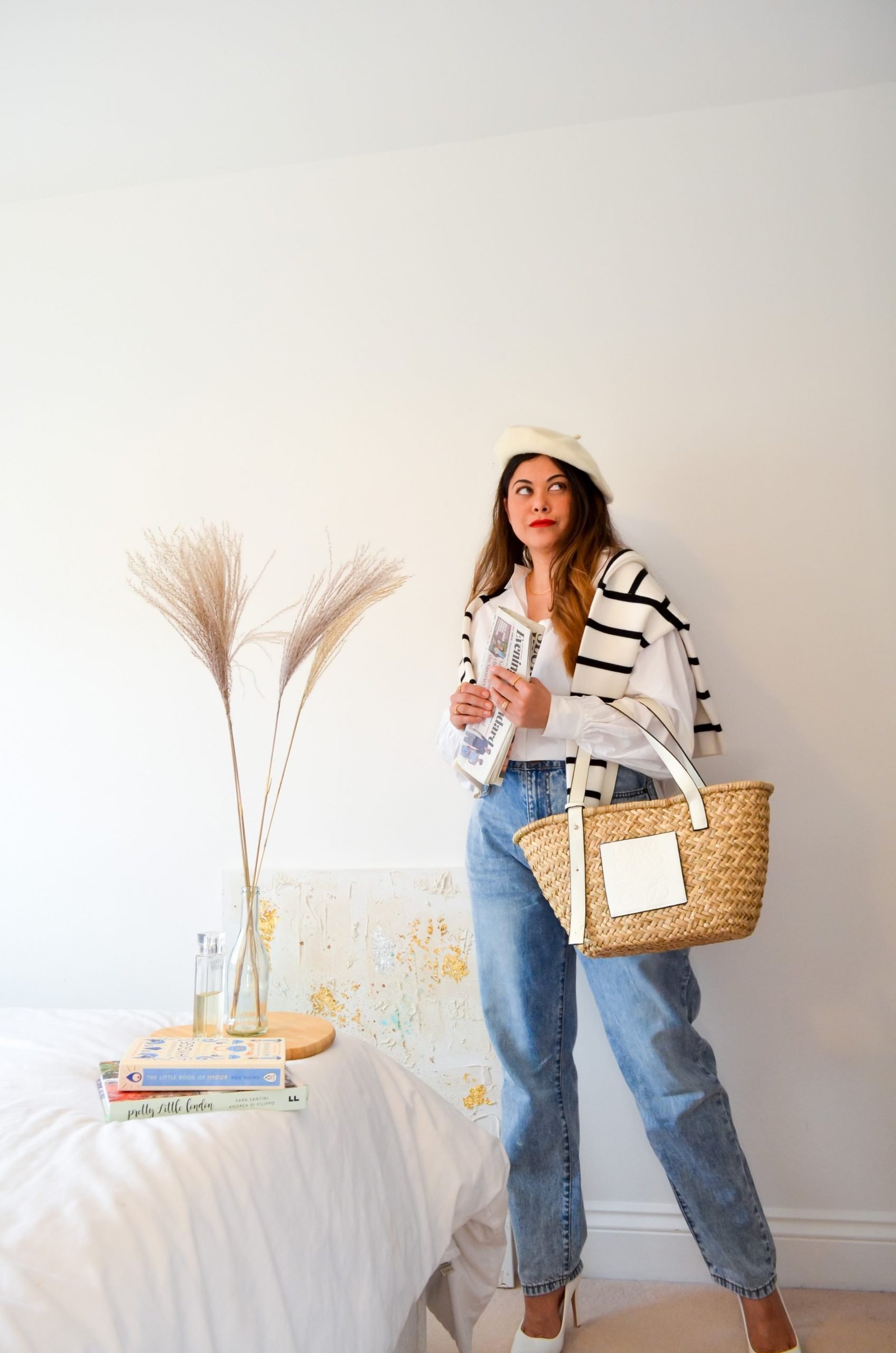 I always love to wear a red lipstick with this look just to give it that oomph, but you can always dress it down with a peach or pink lipstick.
If you like red, spend that extra few ££ and get the YSL Rouge Pur Couture slim lipstick in shade 21 – Rouge Paradoxe. If you get it from YSL direct you will get the nice designer packaging and can get some freebies as samples. You're welcome.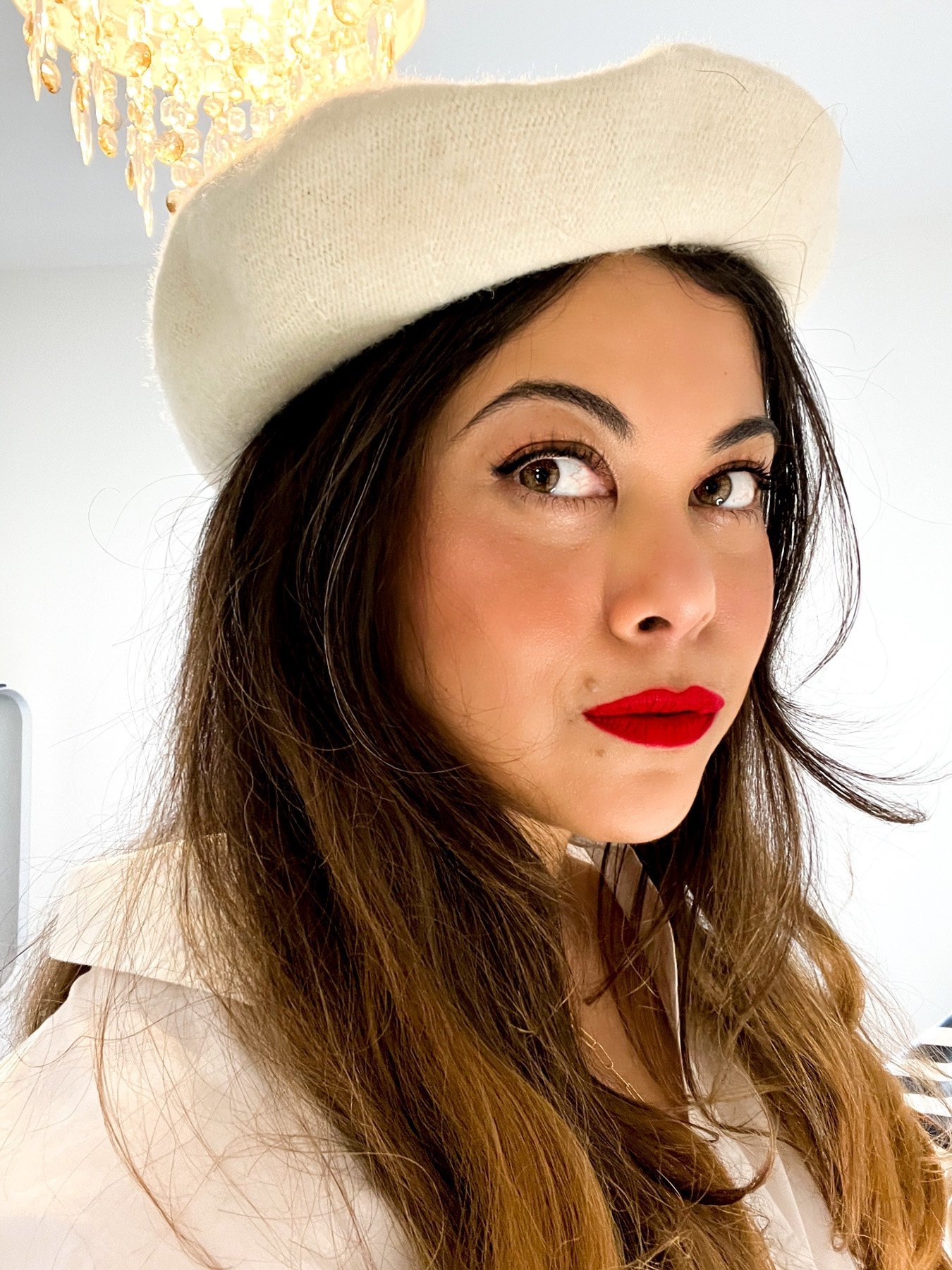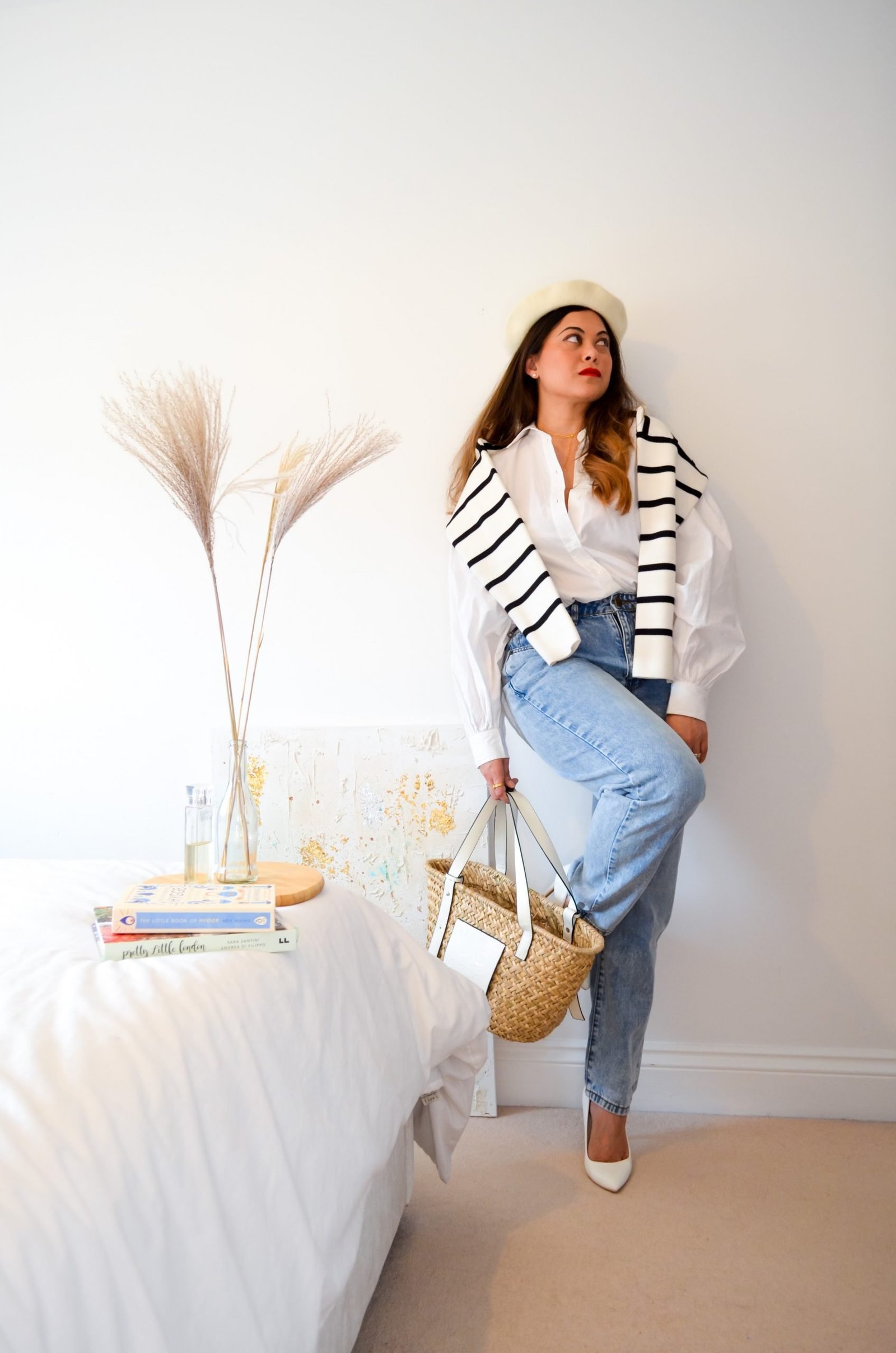 Pro tip: Secure the jumper on your sholders with a safety pin that will help keep it on without having to constantly keep it in place.
Trench it up
Spring and trench coats are such a fabulous idea. Spring time is still slightly cold to ditch the coat, so a trusty trench is all you need to step out in style. Stealing glances on the playground will be so easy with this outfit when you pick up your children from school. I mean, who said mums have to dress in sweats and joggers all the time? You can be chic and put together without a hefty price tag and its not that hard.
This is the same outfit with a trench coat on top. Just wear the jumper over the shirt this time to make the most of the outfit. Everything else is exactly the same, so you have two outfits in one!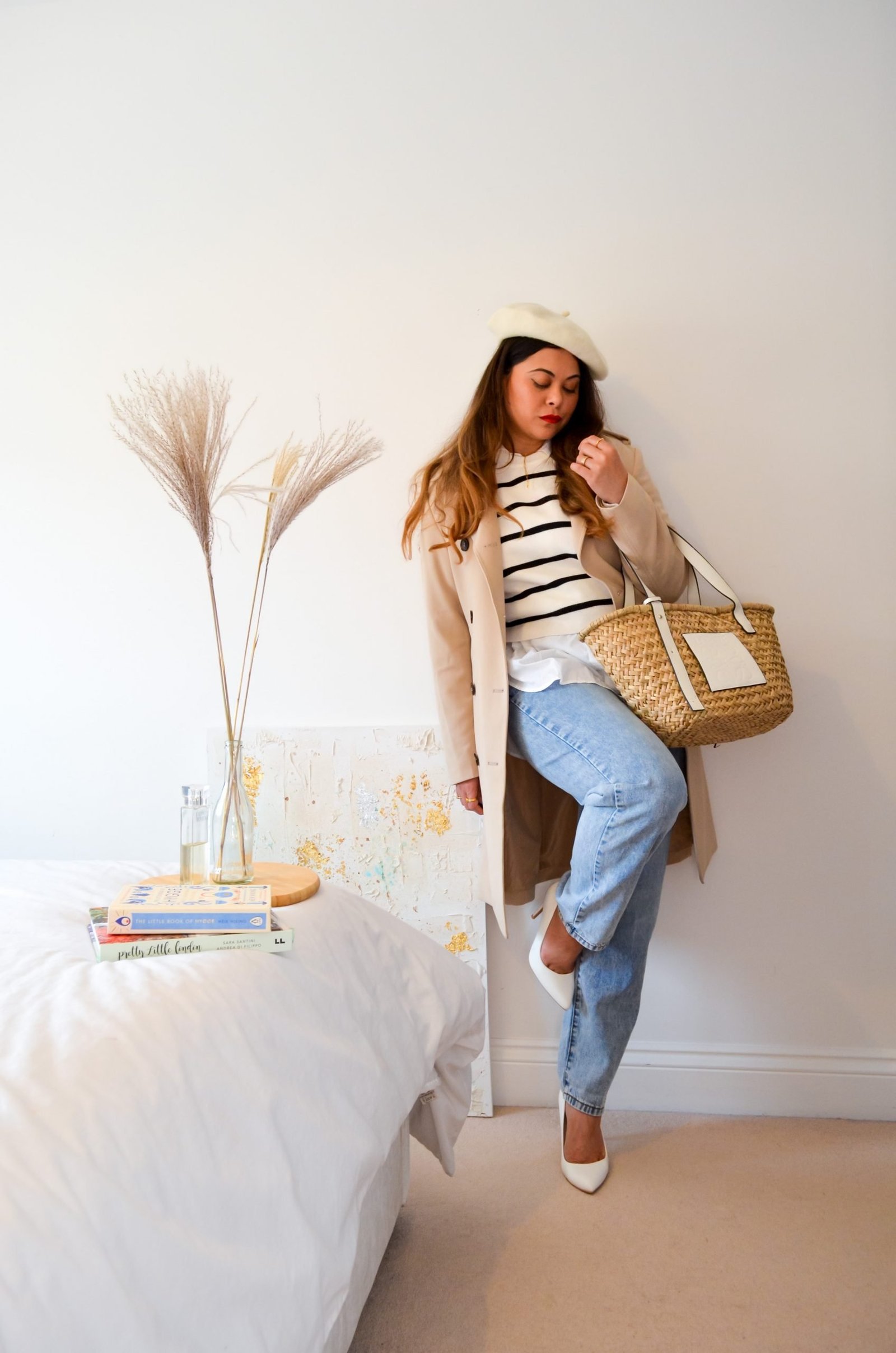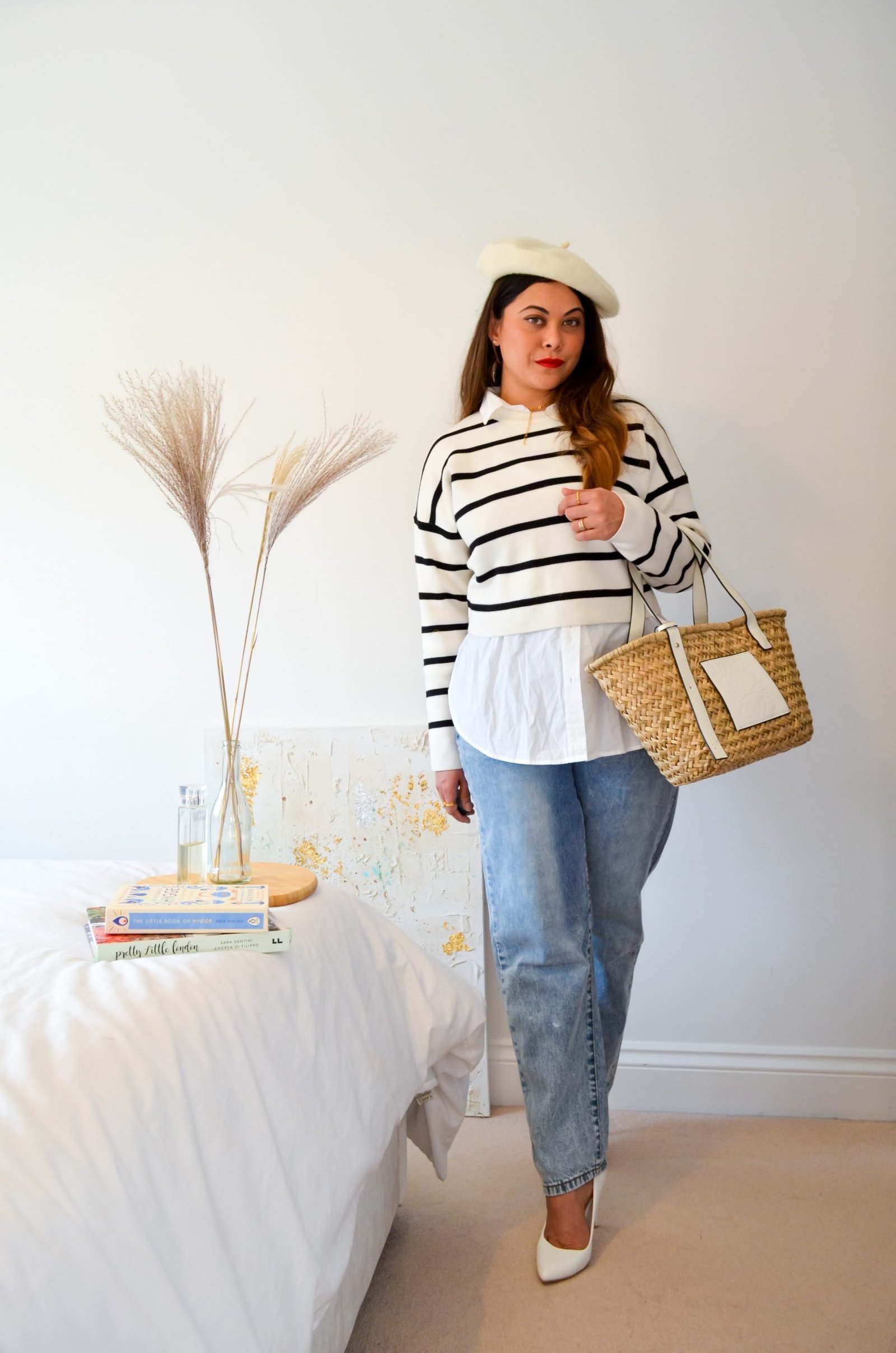 Keeping the jewellery gold will compliment your whole look perfectly. I am wearing Monica Vinader rings in gold here.
If you need another spring-appropriate outfit for spring check out this post. I have been so inspired by Paris the last few years that it has changed the way I dress. Simple and chic accents make me look and feel so much more confident. While small changes like bold red lips make it easy for me to feel like a better version of myself. Like they say, if you dress to the part, half your job is done.
I hope that you have enjoyed my post today. I hope so see you with more next week.
Au Revoir
Pooja Xx