Pristine beaches, turquoise waters, great food and luxury villa life, if that's what you are looking for in a holiday then the Maldives is a place for you. 'Maldives holidays' is one of the most popular search term on search engines at the moment for people looking for a relaxing and exotic holiday destination. Everyone wants to visit there and why not? A holiday in the Maldives is a great idea and let me tell you exactly how mine went.
Our Maldives holiday started in April 2022 and this time we went to visit the incredible resort of Sun Siyam Olhuveli. Just 45 mins by boat from the airport Sun Siyam Olhuveli is truly paradise on earth. I am going to share my experience and a review of this resort with the pros and cons which will help you make up your mind if you wish you stay here. I have also been to Paradise Island Resort in the past, you can read about it here.
PS this is a long post so please bear with me.
Arrival at Velana international airport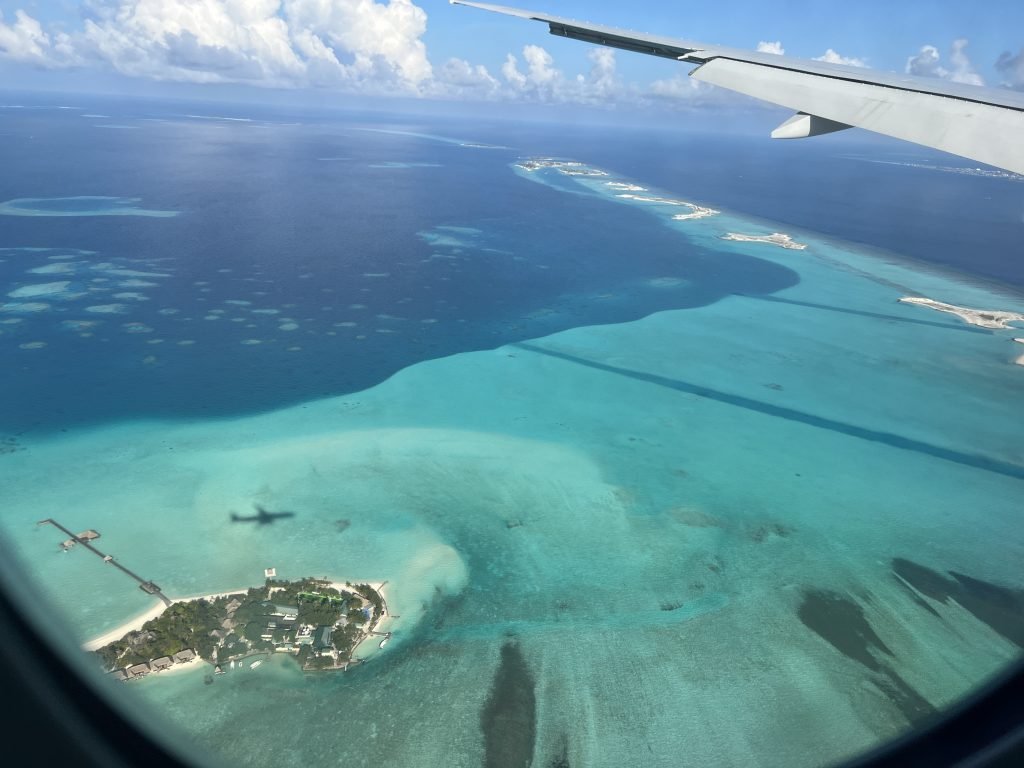 Expect long queues into immigration as you arrive so make sure you or someone from your travel party gets into one of the queues before using the toilets or you will come back to a significantly longer queue. The airport at Male (Maa- le) has some Wifi but it's pretty unreliable in my experience.
Make sure you keep your arrival traveller declaration form QR code ready. You would have filled out this form within 72 hours of the flight departure time from your host country. Also, remember you need to fill out a similar form for your departure from the Maldives as well. So do not forget to fill that out before you check out from the resort.
As a golden rule for your Maldives holiday, book your transfers with the resort you are staying at.
In our case, we had our transfers booked with Sun Siyam Olhuveli. Transfers were waiting for us upon arrival. They sign you in and give you your baggage tags with your room numbers on them at the airport. Depending on how many people are on the list you may have to wait a while to be transferred. We had nearly 45 min wait for others to arrive, so we waited in the food court where they came and found us when ready thanks to the baggage tags. Transfers were smooth and you are given bottles of cool water when you come on board. You also get given life jackets to wear. 45 mins into the boat ride you pull into the jetty near the dive centre at the resort.
Arrival at the resort – Sun Siyam Olhuveli
Upon arrival at the resort, you will be greeted by a team of Olhuveli staff who take you to the reception area or they seat you at the Lagoon bar next to reception. We were treated to a nice cold drink and a cold towel which was most welcome at that point as it was 30+ degrees out there.
We were then greeted by one of the advisors who gave us her what's app number so we could stay in touch in case we needed anything. The Wi-Fi password was also provided to us at this point and the advisor sat us down to explain where everything was on the island. This is also a good time to tell your advisor if you are celebrating any birthdays or anniversaries or special occasions, we let them know about our 10 yr. engagement anniversary. You then get taken to your room.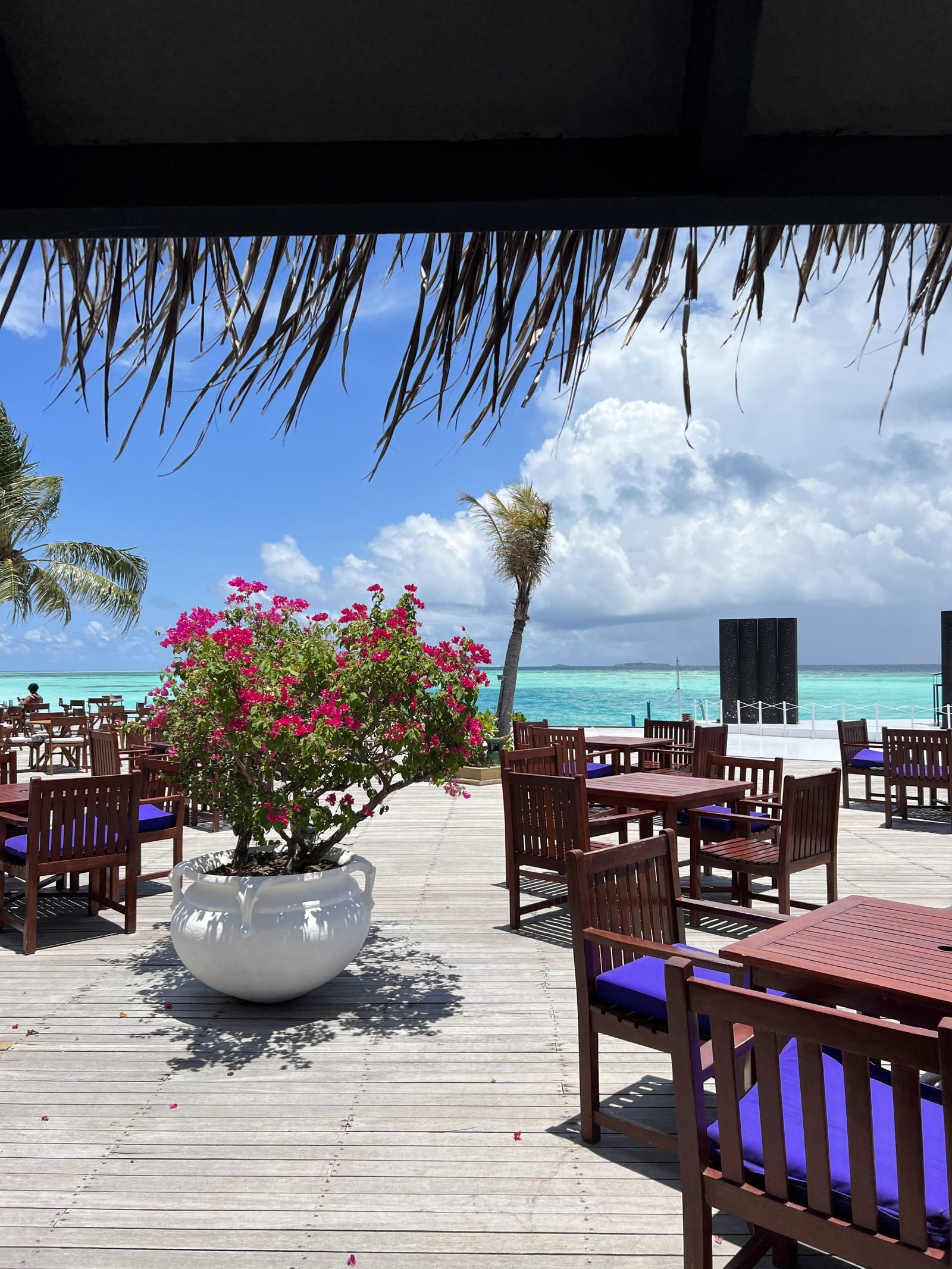 The water villa
If you live in these water villas you won't have access to the buggy, but it's about 10 min from the restaurants and the reception. So not that bad, we actually enjoyed the scenic walks every day.
Here is the first look at our deluxe water villa. The rooms are spacious and have a great view.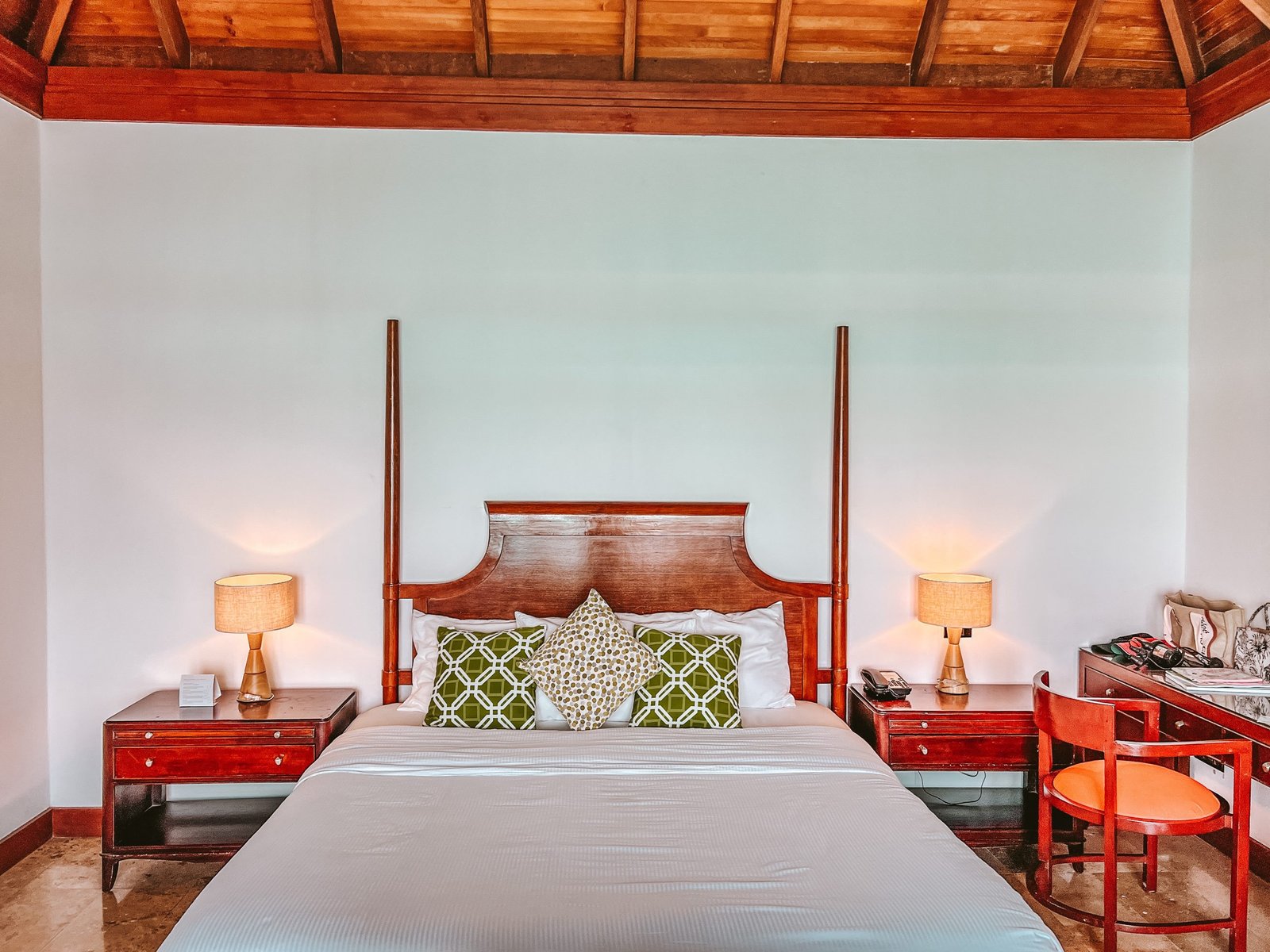 On the day of our engagement anniversary, we came back to this decoration on our bed. And we were treated to a bottle of red wine, a cake and a fruit bowl.
A great way to save money on your accommodation type would be to book different accommodation types for your trip. For example, book a beach villa for the first few days and then get a water villa for the next few which will save you a lot of money. We didn't have any options for an upgrade at the resort as it was full. So make sure you split the days at the time of booking with your agent or direct at the resort website.
The Bathroom
A Maldives holiday is incomplete without a great bathroom I should say! And Sun Siyam Olhuveli delivered because the bathroom was my favourite part of the villa. It consists of a shower cubicle but also a nice tub looking out into the lagoon. Needless to say, I spent some relaxing time there.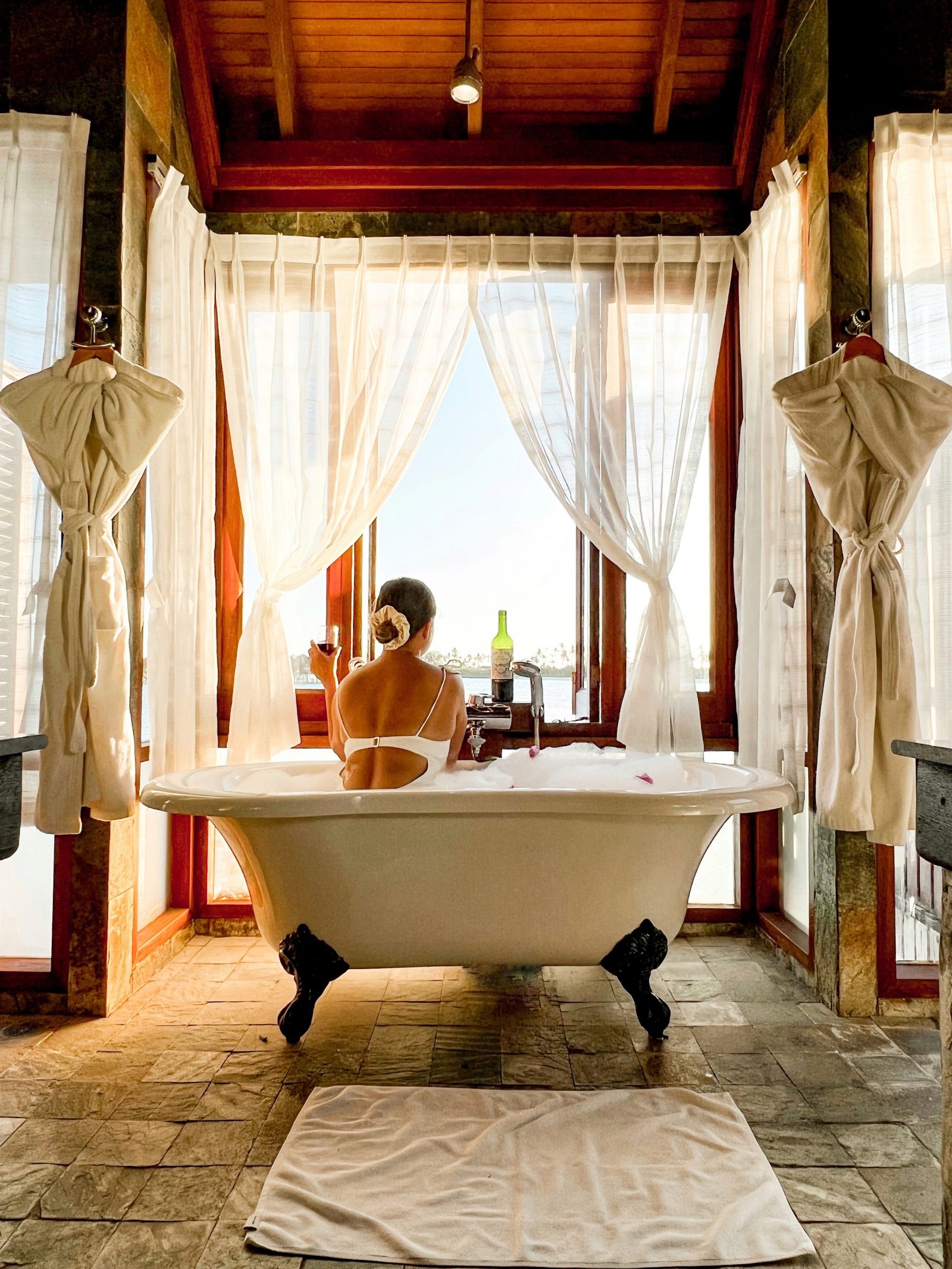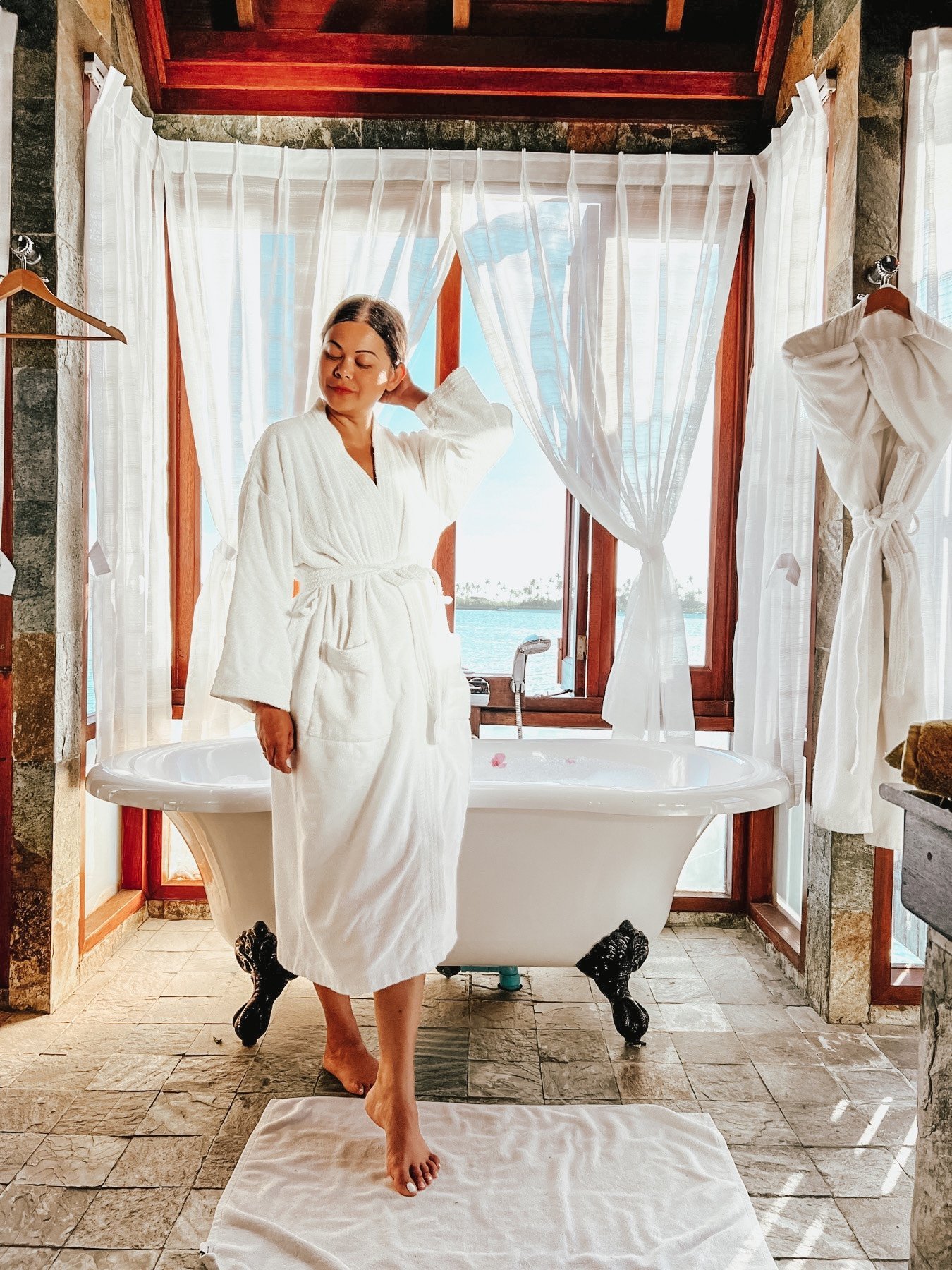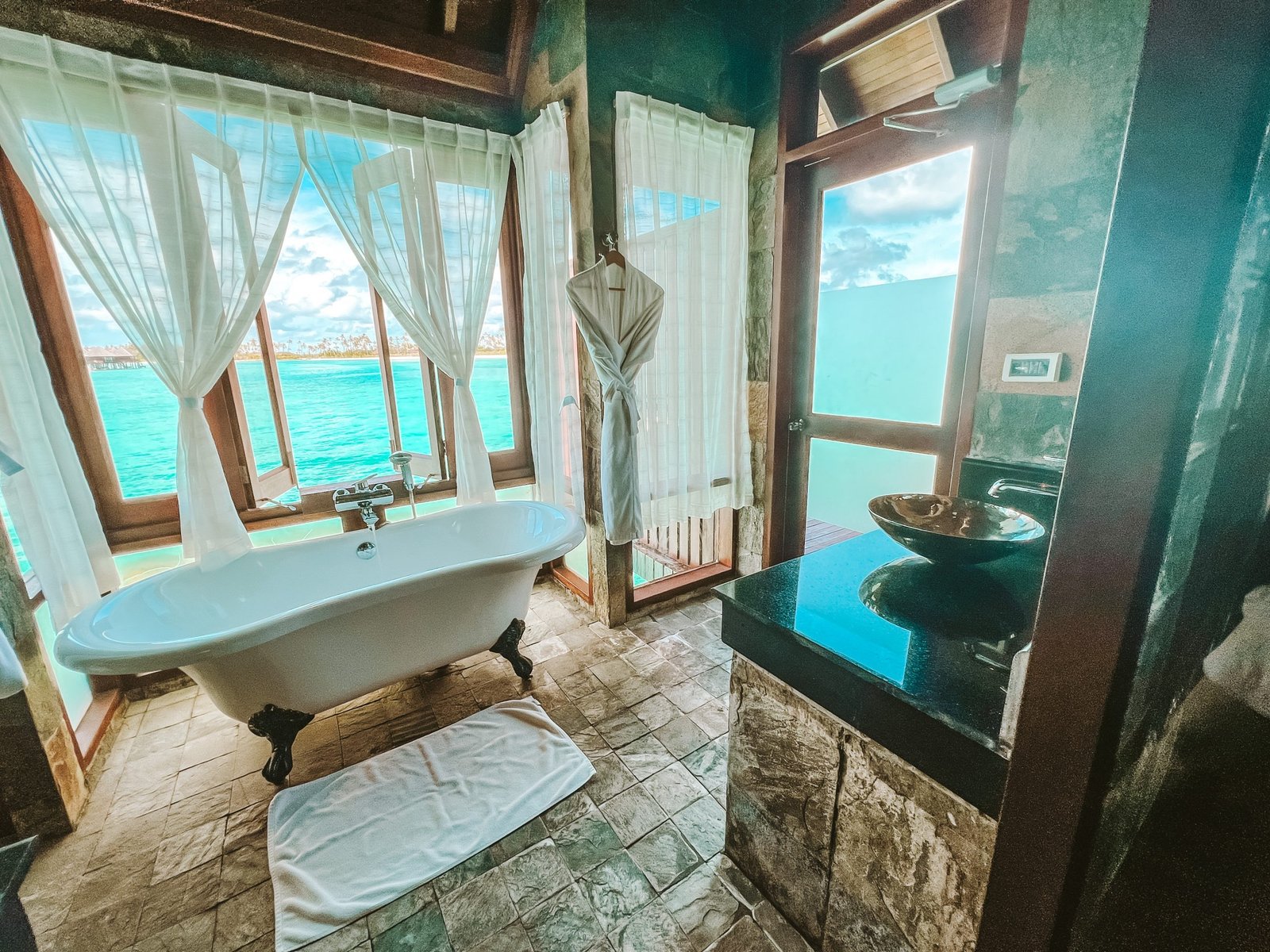 Private Deck to the lagoon
Another great part of the water villa is that it has its own spacious deck and private access to the lagoon. The waters are calmer early morning and mid-day so non-swimmers will be able to walk in the water it's that safe. You have a float available on your deck, but I would suggest getting your own pool floats and an electric pump.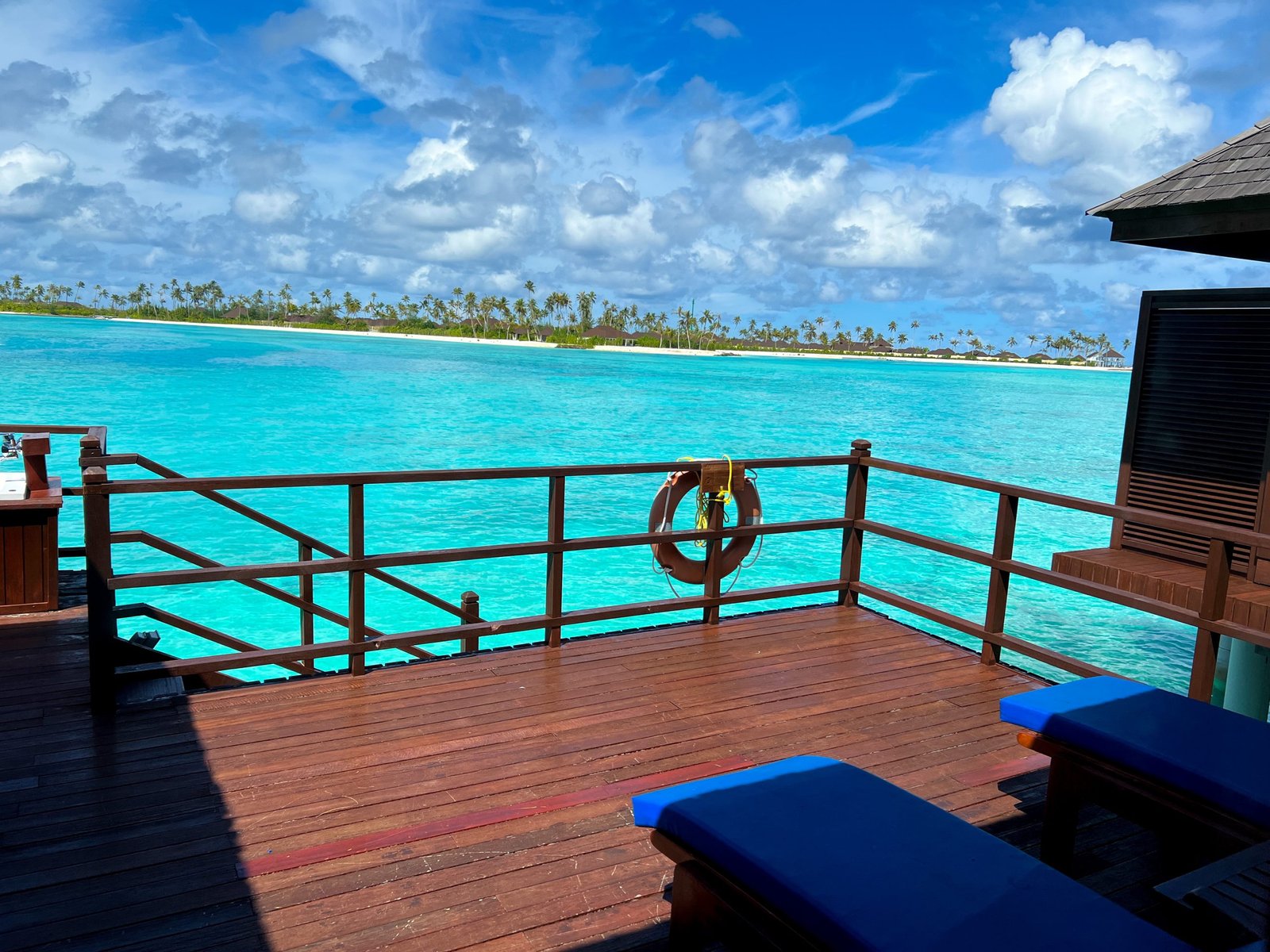 There is also a Jacuzzi on the deck for you, which is amazing, especially for watching the sunset and also at night. The moonlight is spectacular in the way it hits the water.
At night if you sit on the bottom part of the deck, you will see lovely fishes getting attracted to the light. And if you are lucky, you could spot a little shark here and there. They are harmless they say, but I tend not to swim at night.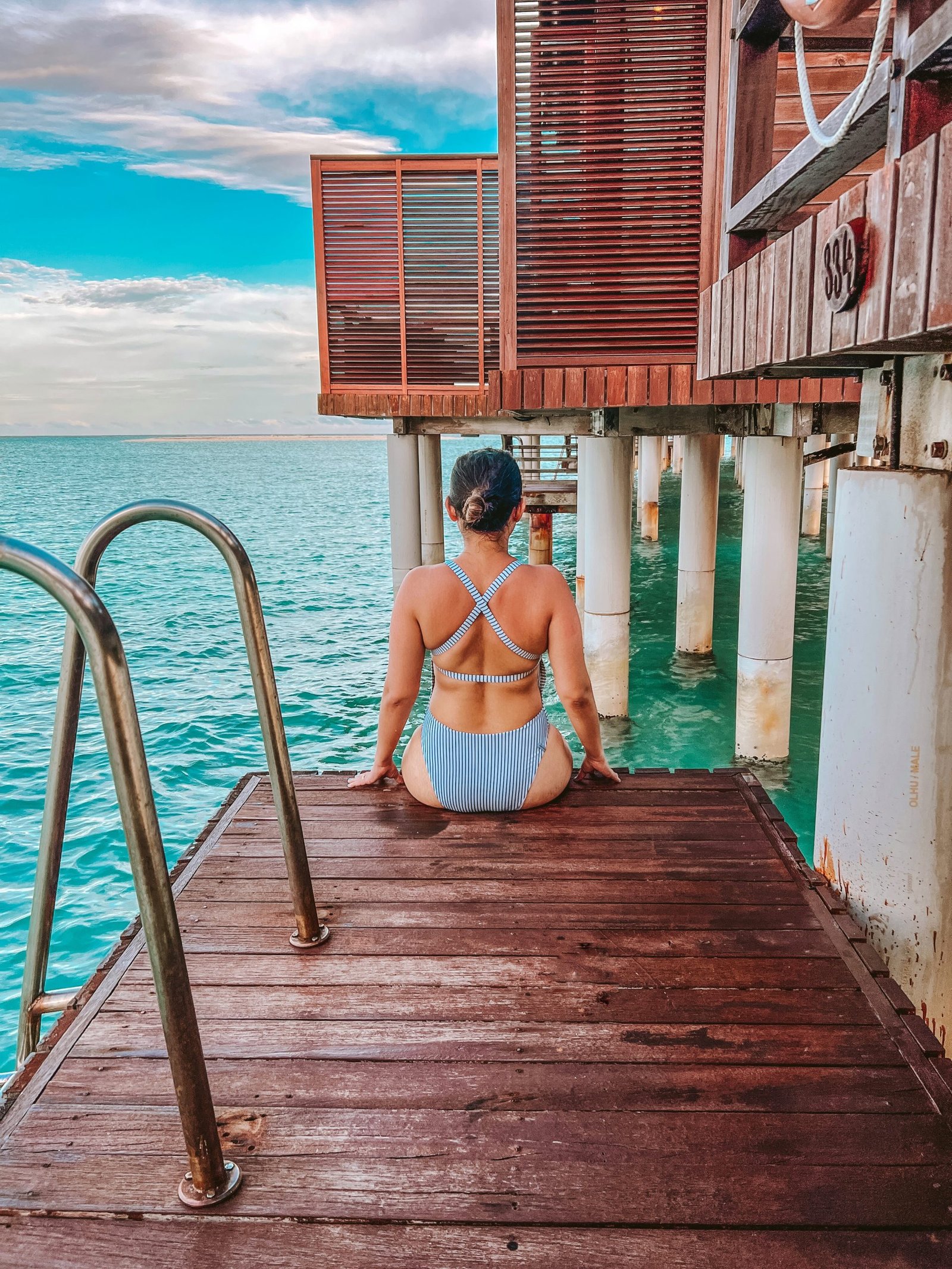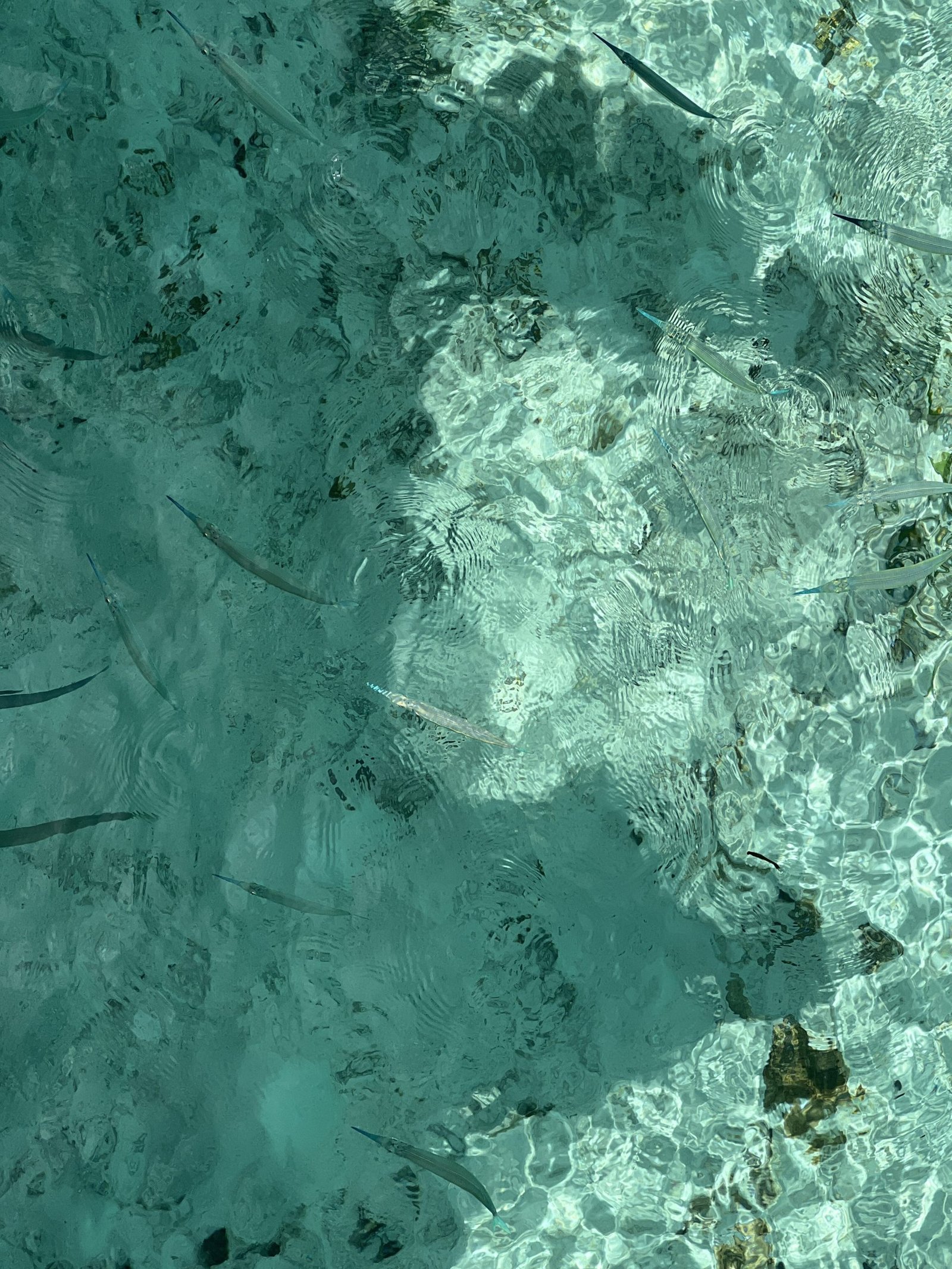 Sunsets
I have to say I have enjoyed watching the sunsets from so many angles on this trip and everywhere it just looks incredible! You must explore both the islands which make the whole resort.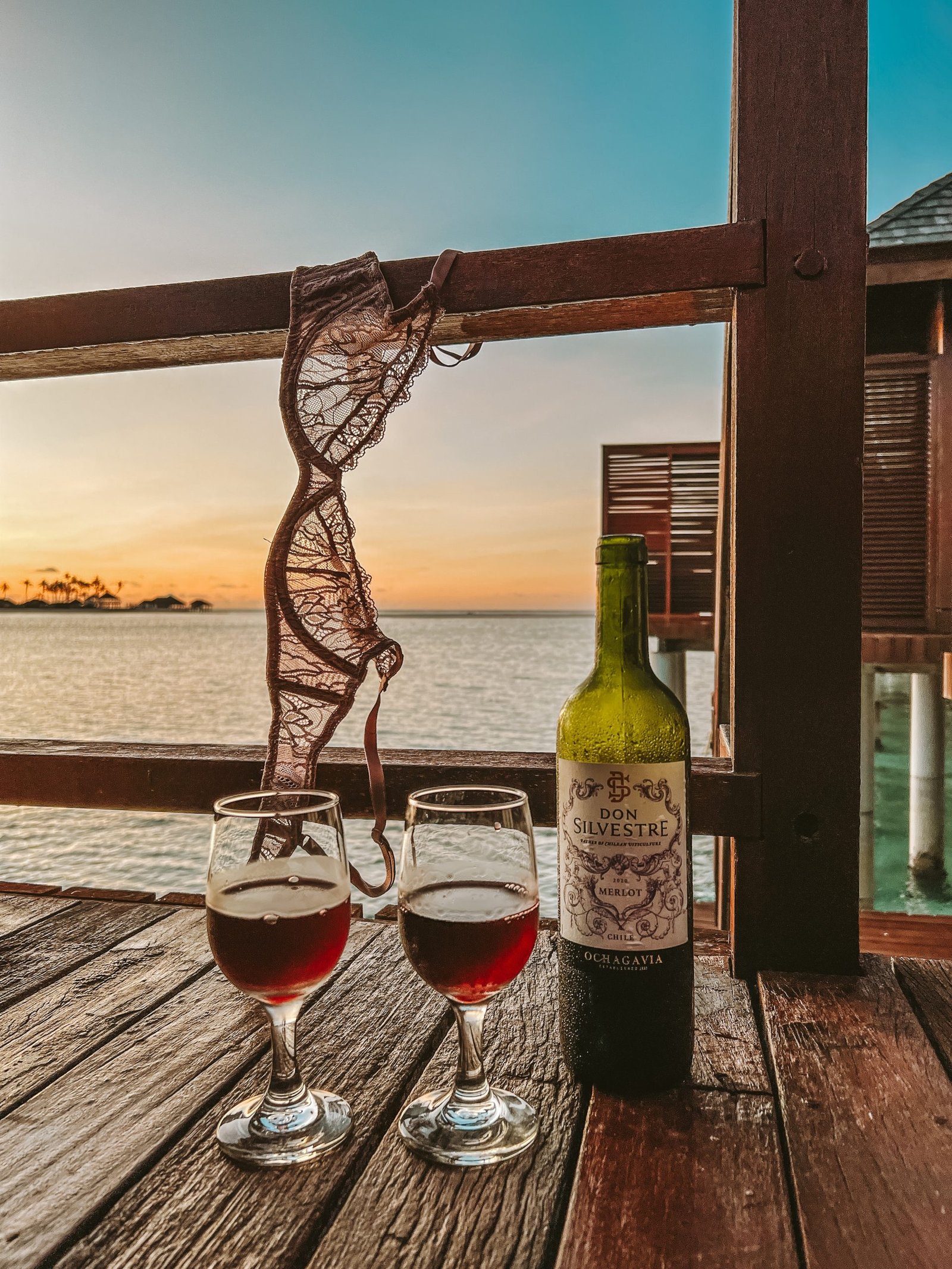 Food and drinks
There are so many options for food while you are at this resort. If you are based on the main island, you will have most of your meals in the Sunrise restaurant which is right by the reception. However, you could also choose any of the other restaurants to eat at while you stay at Sun Siyam Olhuveli. There are plenty of options like Thai food, Indian food, Italian pizza restaurant etc. You will be offered a discount as per your room type but the only one we tried was the Italian pizza restaurant on the beach after we had checked out on our last day.
Our flight was in the evening, and we still needed to have lunch on our last day after we checked out at 12 pm. We enjoyed the Easter lunch at the beach as we had that shack you see in the background and the little one needed more sea time.
Of course, eating at the Italian Pizza restaurant was much cheaper than the buffet at the main Sunrise restaurant. They had live counters for pasta, pizza, fish & chips, options for deserts and cotton candy & popcorn for kids.
It cost us about $35 each adult (kids eat free) for the easter buffet.
It turned out to be a better deal than the $55 per adult at the main restaurant.
Board basis
I have had a lot of questions about the all-inclusive option at Sun Siyam Olhuveli. I would say it's worth it if everyone in your travel party drinks alcohol and you are planning to drink a lot on holiday. We went full board which means all your main meals are covered and you pay extra for the drinks.
For us, it turned out cheaper to pay for the drinks ourselves as we are not heavy drinkers. I enjoyed trying different cocktails every day, however, we drank a lot of diet coke with ice purely as it was so hot! Most cocktails were anywhere between $15 -$20 and soft drinks and fresh juices were $5 -$8.
I particularly enjoyed Sex on the beach and Peach Margarita at the Sunset bar.
The pina colada and the martini at the Lagoon bar were also amazing.
Pools
This resort has 3 spectacular Infinity pools. However, my favourite has to be the adults-only pool by Dhoni bar. Anyone with kids, don't despair you can leave your kids on the beach right next to the pool so you can keep an eye on them while you enjoy some noise-free pool time.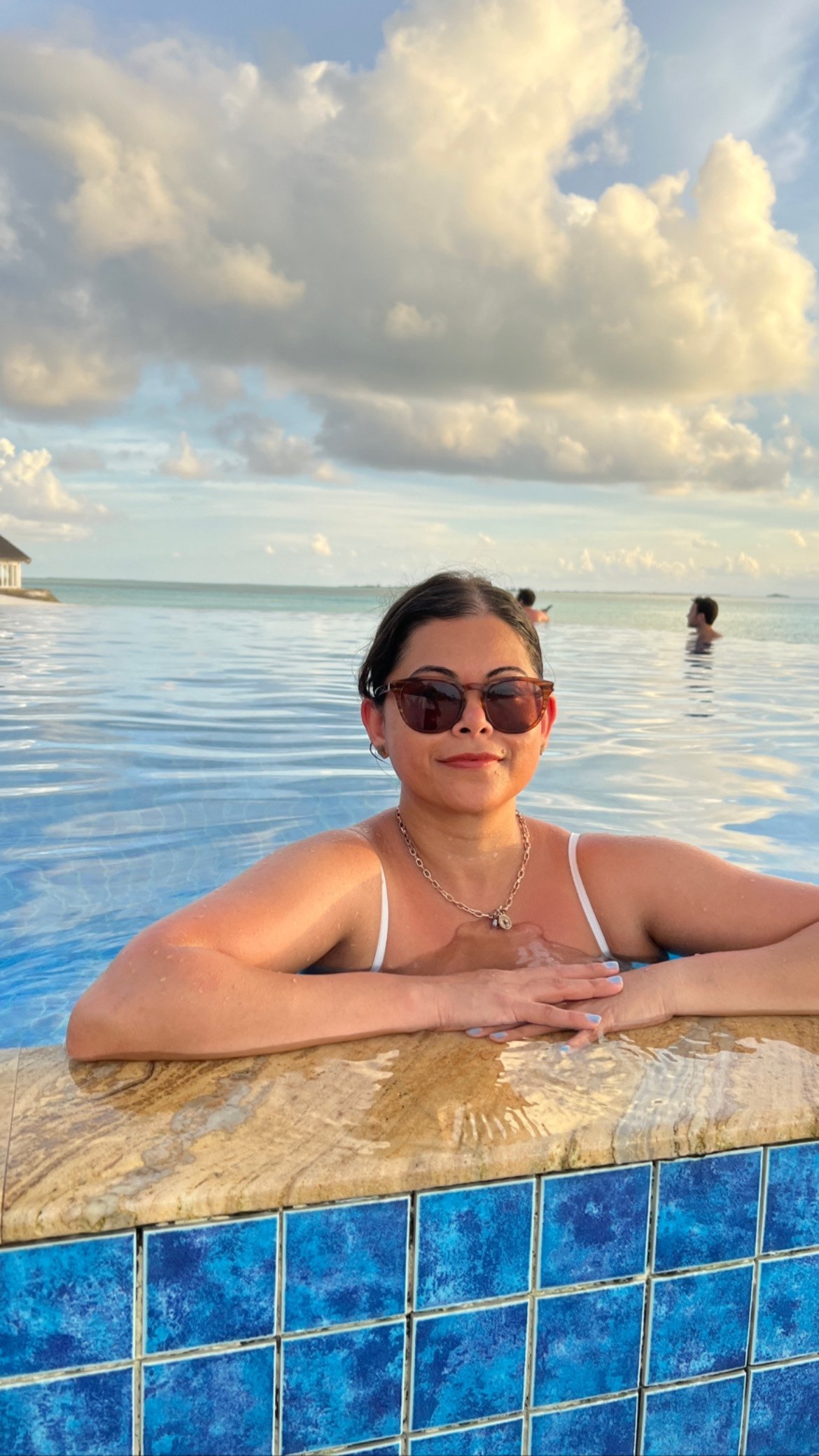 we had so many parents leave their kids on the bean bags on the beach. Some were watching iPad, and some played on the beach. The WiFi is pretty good all over the resort so if a bit of Netflix can give you the break mama, TAKE IT! Also, this is a great place to watch the sunset too!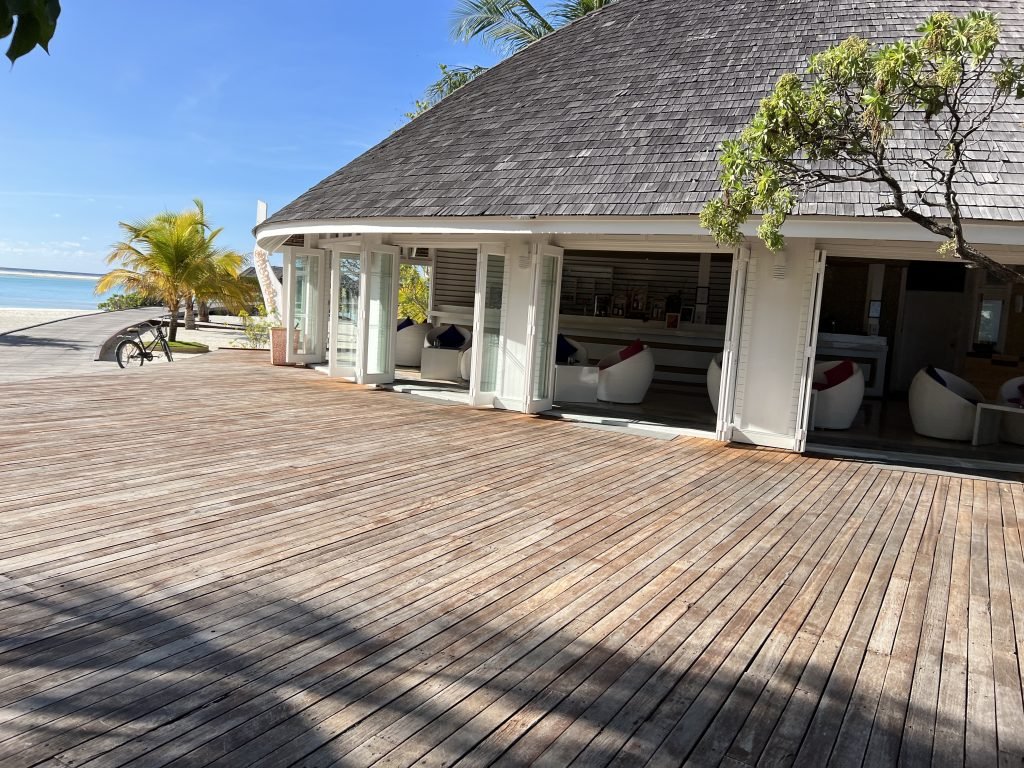 Things to do on your Maldives holiday at Sun Siyam Olhuveli
There is a lot you can do at your resort in the Maldives and honestly, our stay didn't feel long enough. Here are some of the things you can do –
For the kids
During our stay, there were lots of Easter-related activities for the kids like egg painting, cookie decoration, T-shirt painting, kids disco most evenings, beach parties for kids and adults and there was also an easter egg hunt.
Go Dolphin spotting
A must-see while you are here. You must book a trip to go dolphin spotting and you won't be disappointed.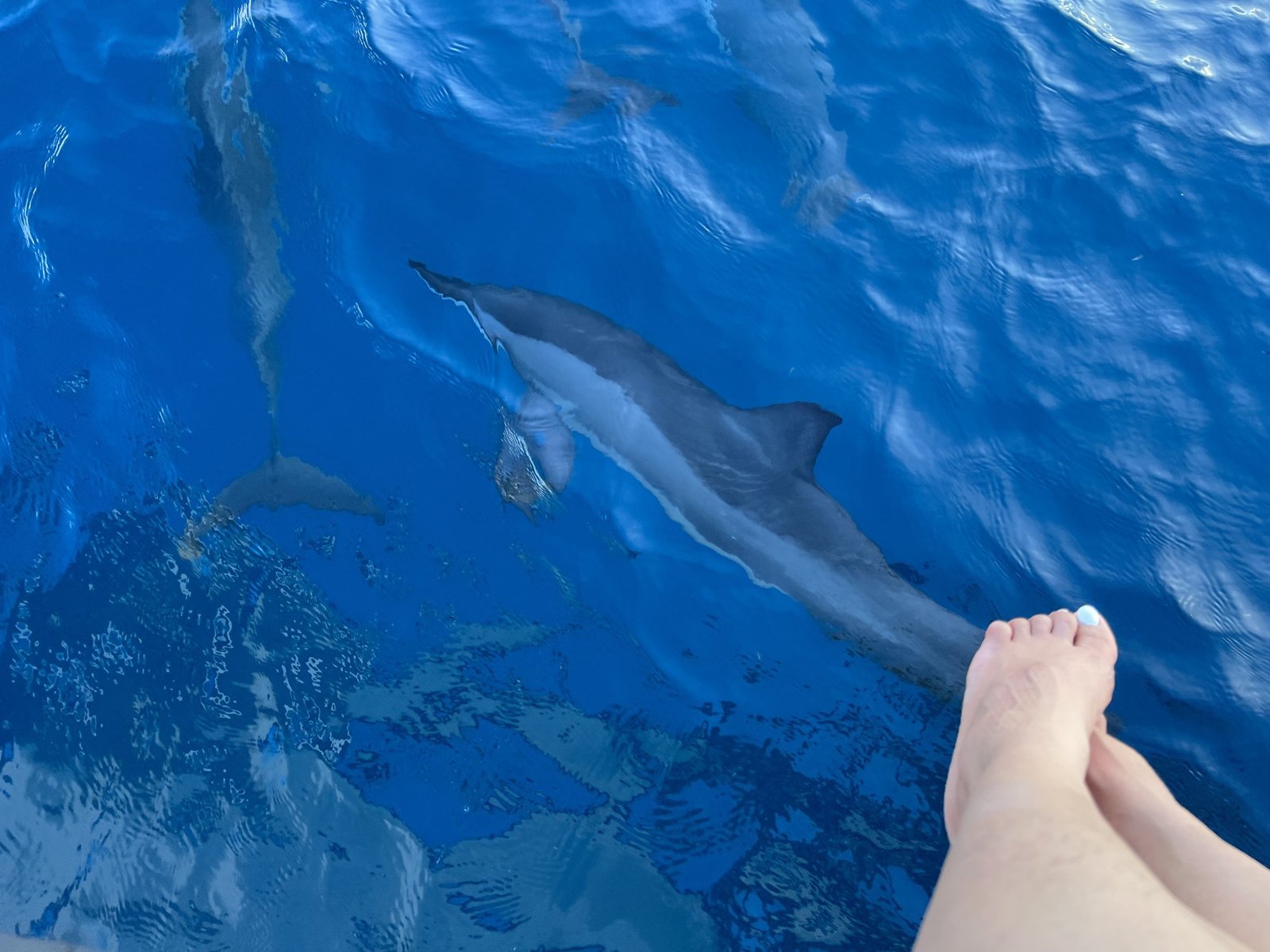 Watch Manta Rays
Just behind the dive centre is the Manta ray point where they come every evening after 7pm. It was our evening routine to go see them after dinner every day.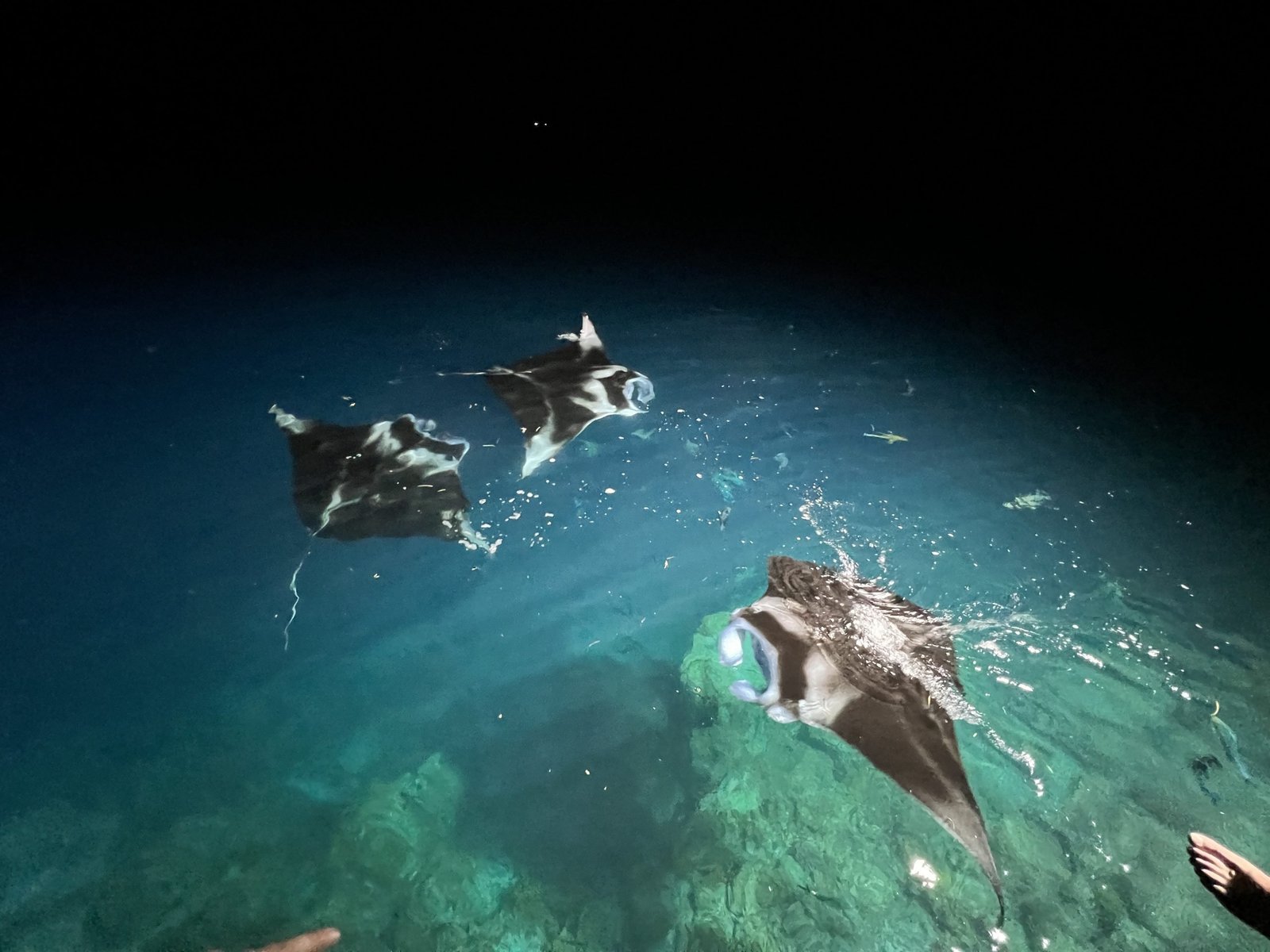 Enjoy snorkelling and water sports
Some great spots to snorkel are by the dive centre and there are lots of water sports to enjoy at the resort.
Swim in the sea
The best thing there is!
Enjoy the resort entertainment
They have a lot going on in the evenings each day with live music, DJs or beach parties etc. Anyone can join the fun.
Enjoy the pools
They have 3 lovely pools to explore all infinity ones. So, the views are amazing. However, you can get a villa with your own pool too!
Visit the other islands
Visit the dream island which is the newer island. They also have an adults-only island coming up which is still under construction.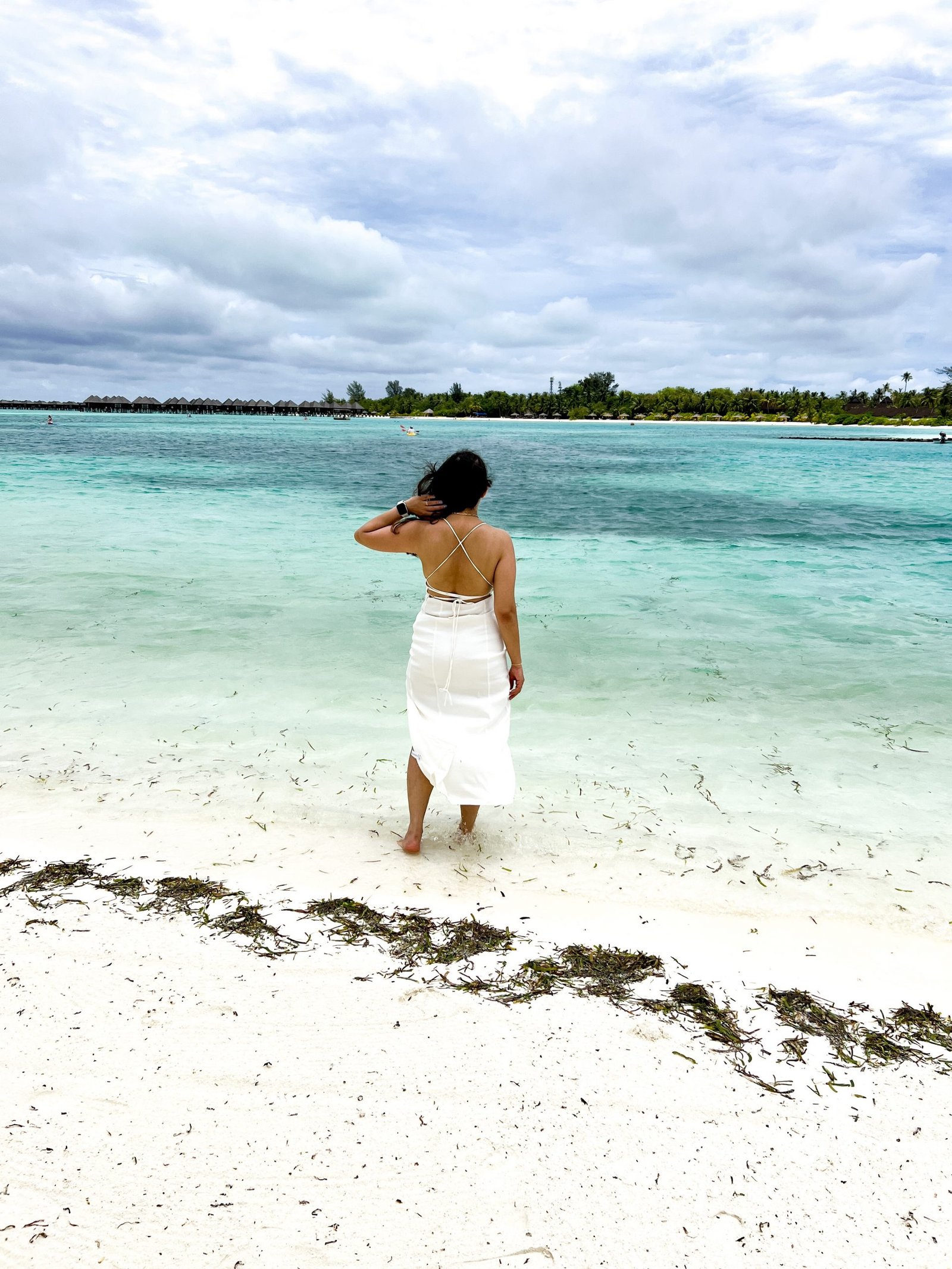 Visit the bird sanctuary
There is a bird sanctuary on the dream island. Some of the birds say hello back.
Cons
My critique for the resort would be –
The reception staff didn't seem that helpful which is not what you want to hear about a resort. However, we all were assigned a concierge at check-in so I would message mine and she would get things done.
The lighting in the room was dim which meant it was hard for me to read a book before bed.
Your room key card stops working at noon on your checkout day. So, if you are going in and out of your room on the last day be careful and make sure the door is propped open.
So the final verdict
Given everything, I would say that Sun Siyam Olhuveli is a great resort. It is fantastic for families and there is a lot to do for everyone. I would highly recommend the overwater villas, and this is one of the few resorts that allow children under 12 on them. Would I stay here again? totally would. Despite the hiccups with the reception staff, it was a memorable stay for us, and I feel like no other holiday will come close unless we come back? Fingers crossed.
If you haven't already followed me on Instagram where I have shared all the highlights of this trip.
And I will see you on the other side 🙂
Au revoir
Pooja