Nothing gets a conversation going in the blogging world like skincare! There are so many permutations and combinations to it these days it's mind-numbing! I mean, I miss the days when all you did was wash your face with a face wash (who even knows if they exist anymore?) and be done with it. I have spent entire evenings watching Tiktokers and YouTubers tell me all about skincare and what serums to use when you are in your 30's. And let me tell you the list is overwhelming! Do you ever find yourself going down the rabbit hole to find what you should and shouldn't be using on your skin and you couldn't have been more confused? Skincare can be really overwhelming for most women out there, me included. This is why when I got to try Typology products I was so pleasantly surprised!
The word on the street is that the French make the best skincare formulas. Turns out Typology is the new dark horse in the skincare business and guess what it's French! It was created by Made.com's co-founder, Ning Li who I think has done a brilliant job with the branding and quality whilst keeping the products at an attractive price point.
Before we begin I want to disclose in case it's not already clear that all the products I am going to talk about in this post today were sent to me as PR Samples by Typology Paris to review. And if you know me, this will be a brutally honest post.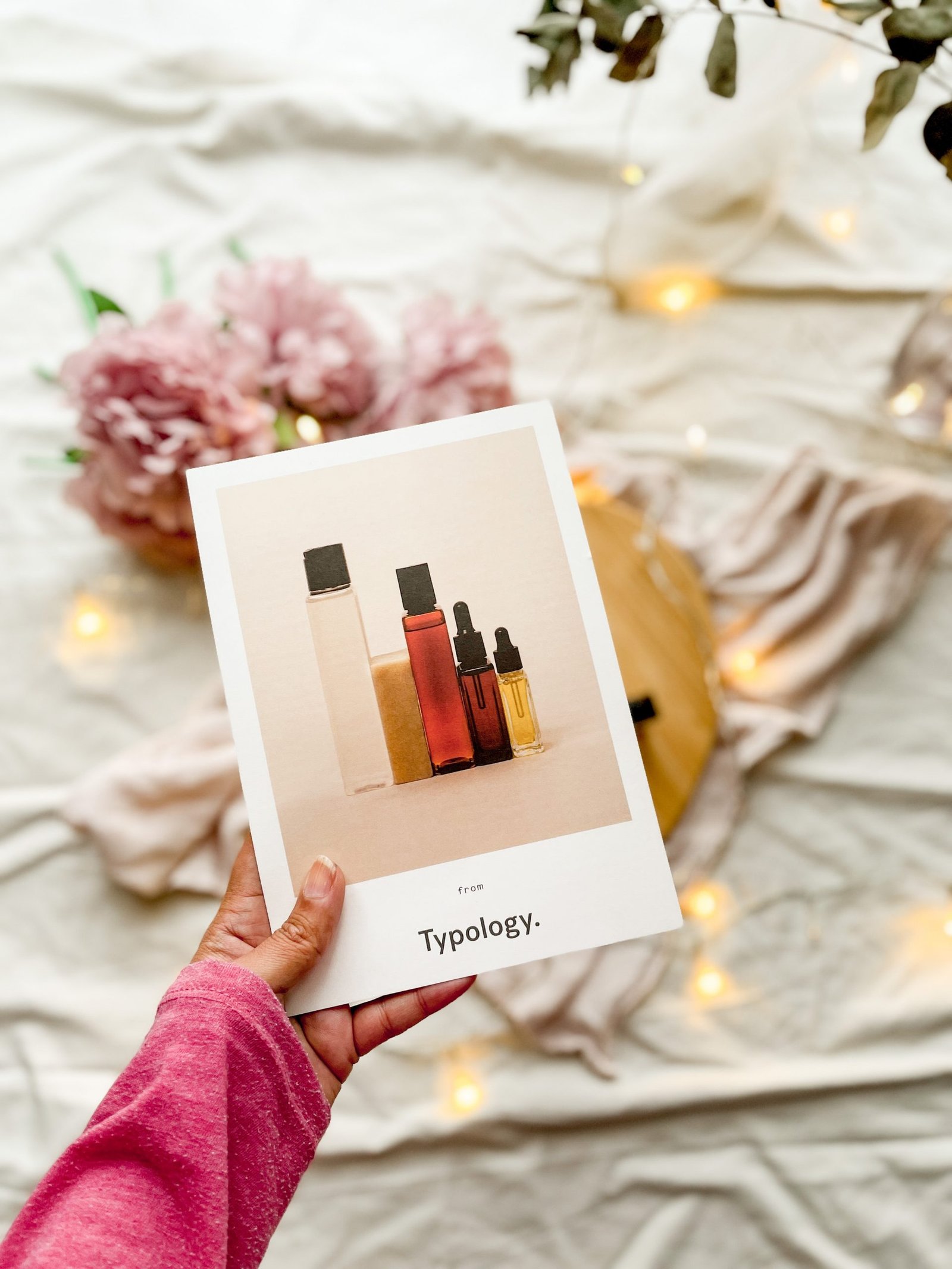 The packaging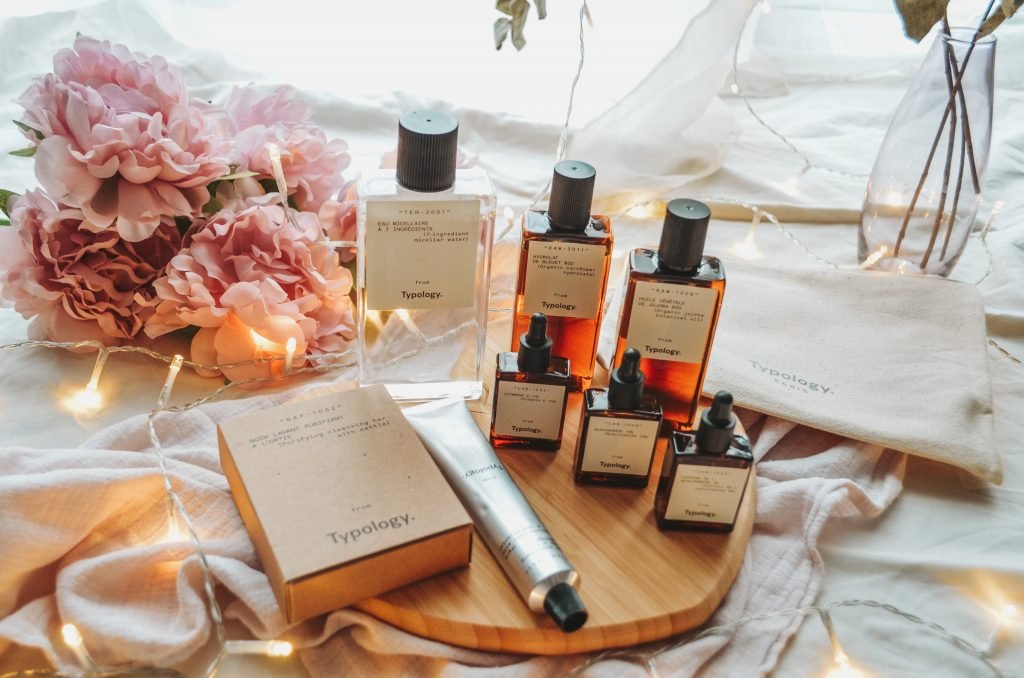 On the outside Typology does seem to have the French style simplicité (simplicity) with its beautiful apothecary style bottles in glass and recycled plastic. They also use aluminum tubes for their moisturizers which is again very much true to the simplicity of the branding. Everything comes in simple and compact packing and the box could literally fit through a letterbox which is quite impressive. I do like the sound of minimal and sustainable packaging. So it's a 10/10 on the presentation from me!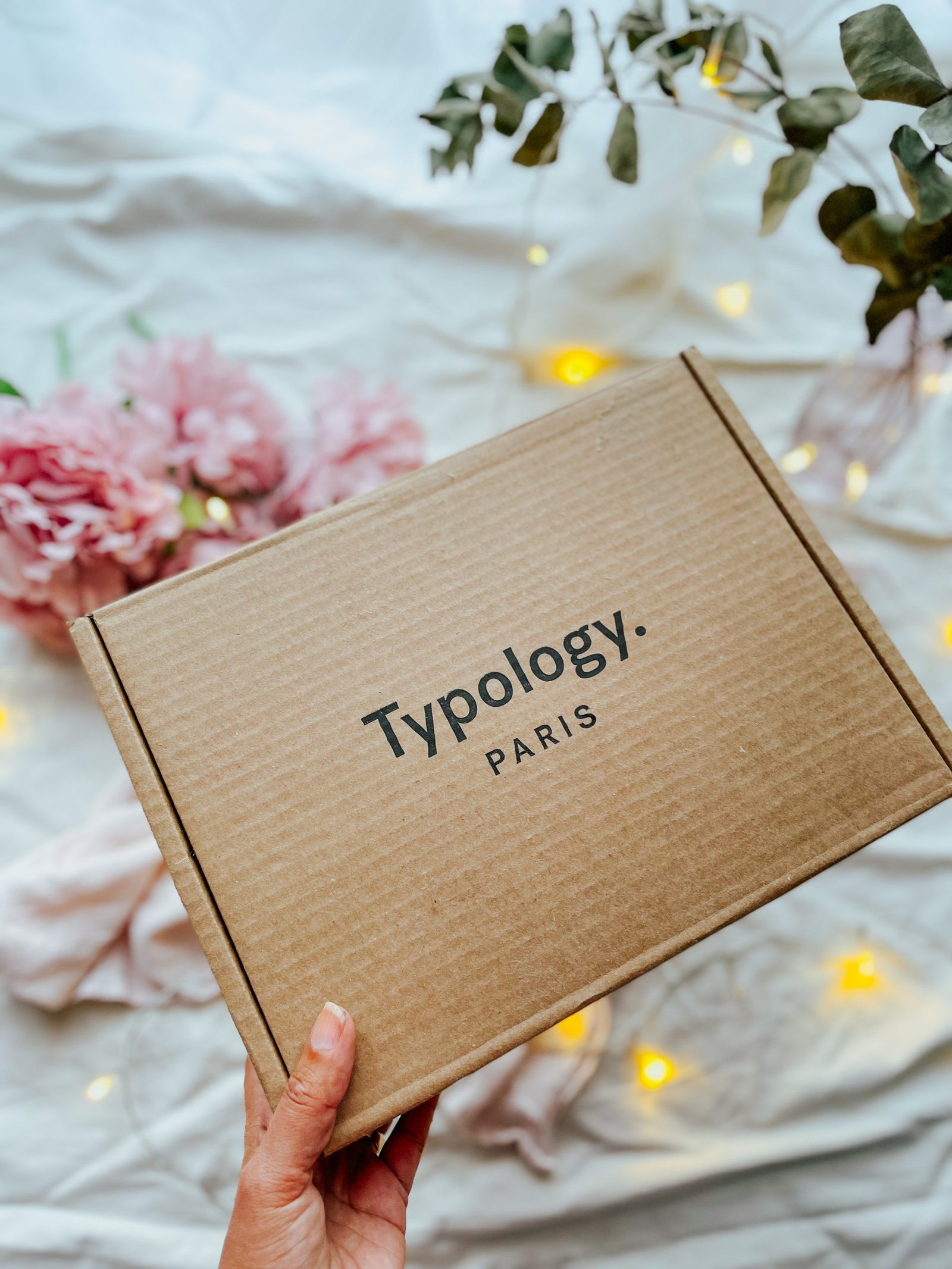 What's right for your skin?
Typology has an impressive catalog of products that you could buy but how do you know what's right for you? For that, they have come up with a diagnostics tool that lets you fill in a little check box form where you list out all your concern areas, and voilà it just brings up a list of all the recommended products you should be using. As easy as 1,2,3!
So talking about problem areas I particularly struggle with dry skin, redness near my nose and cheekbones, whiteheads, and an occasional spot that leaves blemishes behind like a bad boyfriend who doesn't stay long but contaminates your soul! (Sorry, been rewatching Sex and the City.)
So here is a little list of what the diagnostics recommended for me. I have been trying these products for about 4 weeks and here are my thoughts.
The product list
All Typology products are vegan, cruelty-free, and made in France. I am going to list them in the order I use them so that it's easier to understand.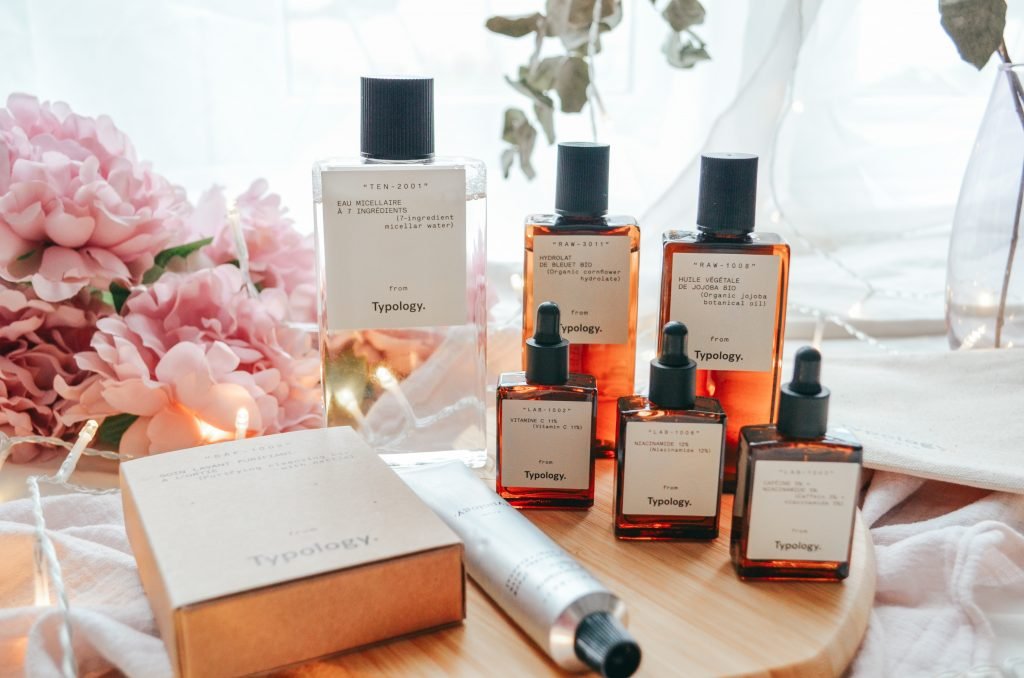 1. 7-Ingredient Micellar Water
This is an impressive formula that is lighter than any other Micellar water I've used before. So for anyone who is new to skincare Micellar water is used as a cleanser and makeup remover. This is particularly great for eye makeup. Just apply to a cotton pad and cleanse the face until makeup goes away completely.
I would say in taking the minimalist approach, for this particular product there were no directions to use on the bottle and for anyone who is new to skincare, it would mean looking up the website to see what this product does and how we should use it which in my opinion was the only con as you shouldn't have to go looking for instructions as a customer.
Ingredients:
Aqua (Water), Poloxamer 184, Glycerin, Pentylene Glycol, Citric Acid, Cetrimonium Bromide, Sodium Hydroxide
2. Purifying Cleansing Bar With Nettle
I have to say this little bar of soap really surprised me! I don't usually stray away from my trusted fully organic and natural cleanser (I have used for almost 14 yrs now) but this bar of soap has changed that for me. It is the one product in the whole package that I received which is in fact naturally scented due to the oils it contains, and I love it. It gently cleanses your skin and thanks to the 8% fatty acid content which is retained during the cold saponification process, the soap doesn't feel harsh and leaves your skin soft and nourished after use. If there is anything I will be reordering this is it.
Ingredients:
OLEA EUROPAE FRUIT OIL* – olive botanical oil AQUA – water COCOS NUCIFERA OIL* – coconut botanical oil SODIUM HYDROXIDE – lye extracted from salt BUTYROSPERMUM PARKII BUTTER* – shea butter HELIANTHUS ANNUUS SEED OIL* – sunflower botanical oil EUCALYPTUS GLOBULUS OIL* – essential oil of lemon eucalyptus MENTHA SPICATA OIL* – essential oil of spearmint ILLITE – clay URTICA DIOICA LEAF POWDER* – nettle powder LIMONENE – molecule naturally present in essential oils
*ingredient from organic farming
100% of the ingredients are naturally-derived
3. Hydrolate Organic Cornflower
The Hydrolate aka toner is really nice and soothing. It is meant for depuffing of the under eyes and the face, so you can either use it to focus on the under-eye area or your whole face. I usually apply the Hydrolate to the entire face in the morning and evening to my cleansed skin, before a serum and/or face cream. I like to take the toner in my palm (and you don't need a lot) and just dab the product onto my skin, starting with the under-eye area and using the rest all over my face.
In all honestly, I don't know how much depuffing the toner does, but it does make my skin really smooth which I love.
Ingredients
Centaurea Cyanus Flower water, Benzyl Alcohol, Dehydroacetic Acid, Aqua
4. Radiance Serum 11% Vitamin C
Here in this bottle is a simple Vitamin C serum that restores radiance to dull and tired skin. Apply 3 to 4 drops to clean, dry skin each morning and evening. All you do is gently massage the serum into the face and neck using circular motions.
The good thing is the radiance serum is stabilised so you can use it with most Typology serums without worrying about it reacting to other serums until explicitly mentioned that it could. The downside is like most other Typology products this is unscented which is great for those sensitive nostrils but hey! there is something very special about the scent of citrus when it comes to a good vitamin C serum. If this serum had that I would have given it a 10/10, for the fragrance also adds to the user experience.
Ingredients:
Aqua, Sodium Ascorbyl Phosphate, Propanediol, Albizia Julibrissin Bark Extract, Glycerin, Citric Acid, 1,2-Hexanediol, Caprylyl Glycol, Xanthan Gum, Carrageenan, Evodia Rutaecarpa Fruit Extract, Phytic Acid, Sodium Benzoate, Tropolone
5. Unifying Serum 12% Niacinamide
The Niacinamide serum is the hero for me because it has worked on the one major problem I have with my skin and that is redness and the blemishes from the occasional acne that I do get. As an added bonus this serum smoothes and refines skin texture. All in all, does what it says on the tin. So I apply this serum after my Vitamin C serum and it seems to do the job.
Ingredients:
Aqua (Water), Niacinamide, Propanediol,1,2-Hexanediol, Caprylyl Glycol, Xanthan Gum, Carrageenan, Citric Acid, Phytic Acid, Tropolone
6. Eye Serum 5% Caffeine + 5% Niacinamide
A perfect elixir for the under-eye this eye serum is just the thing I needed. It really works! It helps reduce the appearance of dark circles and under-eye bags. I couldn't have been more impressed. You just massage a few drops of serum onto your under-eye skin and just massage it going upwards.
Ingredients:
Aqua (Water), Glycerin, Caffeine, Niacinamide, Propanediol, 1,2-Hexanediol, Dipotassium Glycyrrhizate, Albizia Julibrissin Bark Extract, Benzyl Alcohol, Xanthan Gum, Polyacrylate Crosspolymer-6, Dehydroacetic Acid, Sodium Benzoate, Siegesbeckia Orientalis Extract, Citric Acid, Sodium Hydroxide.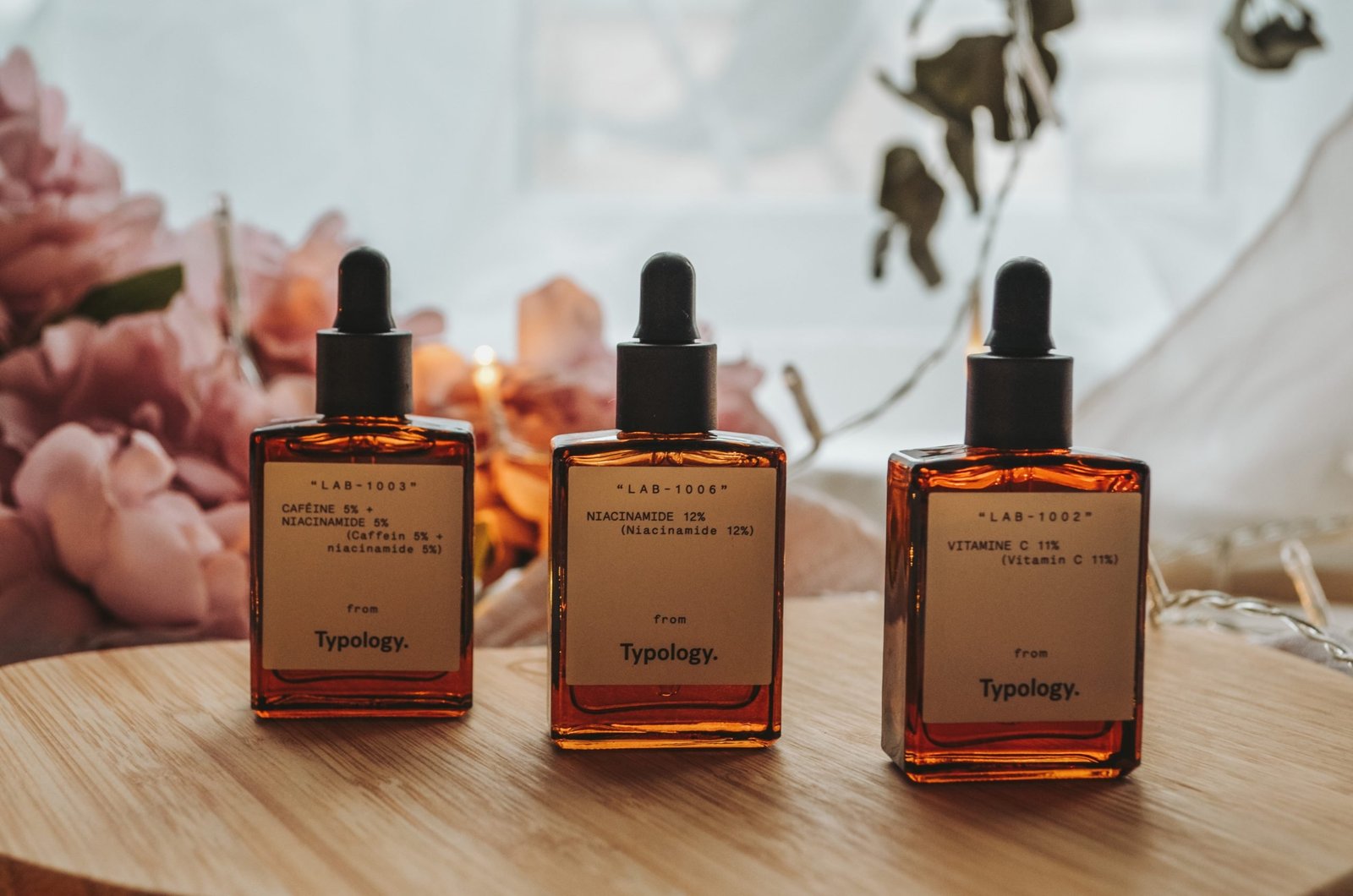 7. Botanical Oil Organic Jojoba
Just some plain and simple cold-pressed oil from organically grown jojoba seeds. This is a special oil that you can use on your face and also your hair. Jojoba oil prevents dehydration by creating a protective film that retains water and defends the skin against external aggressions. The oil also helps to strengthen and protect the hair while boosting its shine.
I really love the fact that you have multiple uses for this oil and you really don't need a lot on your skin. I use it in the morning after all my serums: 2 drops are enough for the whole face. I would totally recommend this oil.
Ingredients:
Simmondsia Chinensis Seed Oil.
100% pure oil, from organic farming.
9-Ingredient Face Moisturiser
In true Typology style, this 9 ingredient face moisturiser is minimalist and does the job. Having said that, the moisturiser is unscented and that to me is a bit disappointing purely because I like my moisturiser to be scented. However, this is for sensitive skin and probably keeps the price point down. So if you can get over the fact that it's unscented this could be for you because the formula is lightweight and non-greasy.
I love that this moisturiser has Hyaluronic acid in it which is such a great component for reducing the appearance of fine lines and plumping your skin. I give this moisturiser a 9/10.
Ingredients:
Aqua (Water), Cocos Nucifera (Coconut) Oil, Glycerin, Cetyl Alcohol, Pentylene Glycol, Cetyl Phosphate, Sodium Hydroxide, Sodium Hyaluronate, o-Cymen-5-Ol
The Verdict
Overall, I think Typology has exceeded my expectations and the price point for most of these products has made it possible for us to have the exceptional quality we hope to have for skincare that is clean, simple, and straightforward. I am definitely going to keep up with this routine.
I hope that my review will help you all understand Typology as a brand and the pros and cons to make an informed choice for your skincare needs.With that, I come to the end of this post. Happy shopping! Until next week.
Au revoir,
Pooja