Hair volume is such a huge issue for women like me who have fine and thin hair. With so many factors affecting our health these days, it's so common to see some hair loss. Needless to say, I despise seeing my fine strands of hair leave my scalp, especially when I miss hair wash days! So every strand is precious to me, which is why hair volume is always my top priority.
So in today's post, I will be testing out Typology Paris Hair Volume Duo. This was sent to me by Typology Paris to try and review. I have also reviewed Typolology's skincare and tinted skincare which you should definitely check out.
Volumising shampoo with Almond protein 1% + Biotin
Over the years I have tried and tested so many volumising shampoos. I have searched the internet for all sorts of things like – how to get volume to your hair? Or the best hair volumising products. I have wasted so much money trying out various shampoos that don't work. Nothing seems to have made the mark until I tried Typology's Volumising Shampoo. If hair volume is what you are looking for, even for the thinnest of hair types, then this is it!
This shampoo contains active ingredients such as almond protein, biotin, panthenol, aloe vera, rosemary essential oil, and scots pine essential oil. Each of these ingredients is key in promoting hair growth. It forms a protective layer on the hair fiber and hydrates the scalp. Composed without sulfates and silicone, this shampoo gently cleanses and respects the balance of the scalp. Its light texture does not weigh down the hair which is so important when it comes to hair volume.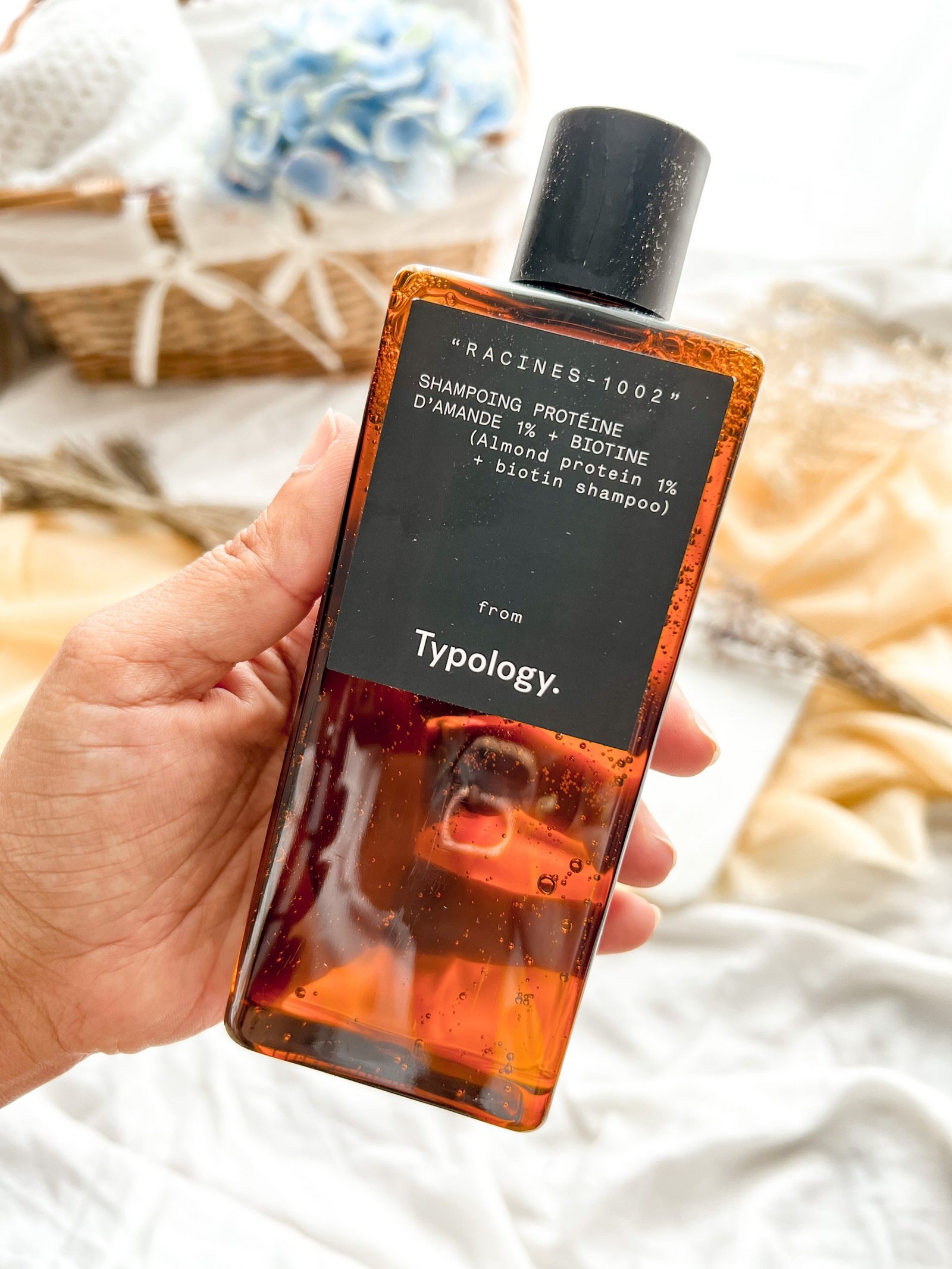 To use just apply this shampoo to wet hair and scalp, and massage it in. You will find that it immediately makes your scalp and hair feel cleansed. The ayurvedic and natural aroma of this shampoo is intense at first, but it seems to have grown on me. It doesn't lather a lot, which is how your shampoo should be. But it leaves each hair strand feeling cleansed and coated with natural almond protein.
I have tried using this shampoo with and without a conditioner, and it works well both ways. However, since I have coloured hair, I prefer it with a conditioner. You can try Typology's detangling conditioner for better results.
I would rate this shampoo a 9/10 and it has given my fine hair unbelievable volume. Which is something I have never seen my hair do before. I have used this shampoo consistently for more than 4 weeks now and I see the same results every time.
A 200ml bottle of this shampoo will cost you £15.10. I think it's fairly priced for the quality product you are getting.
Densifying scalp treatment Peptides 2% + Ginger Extract (part of the Hair volume duo)
The second part of the hair volume duo is this ginger extract hair serum, which is quite the buzz right now. The densifying scalp treatment serum is said to strengthen your hair roots to limit hair loss while stimulating regrowth. It also helps bring volume to the hair.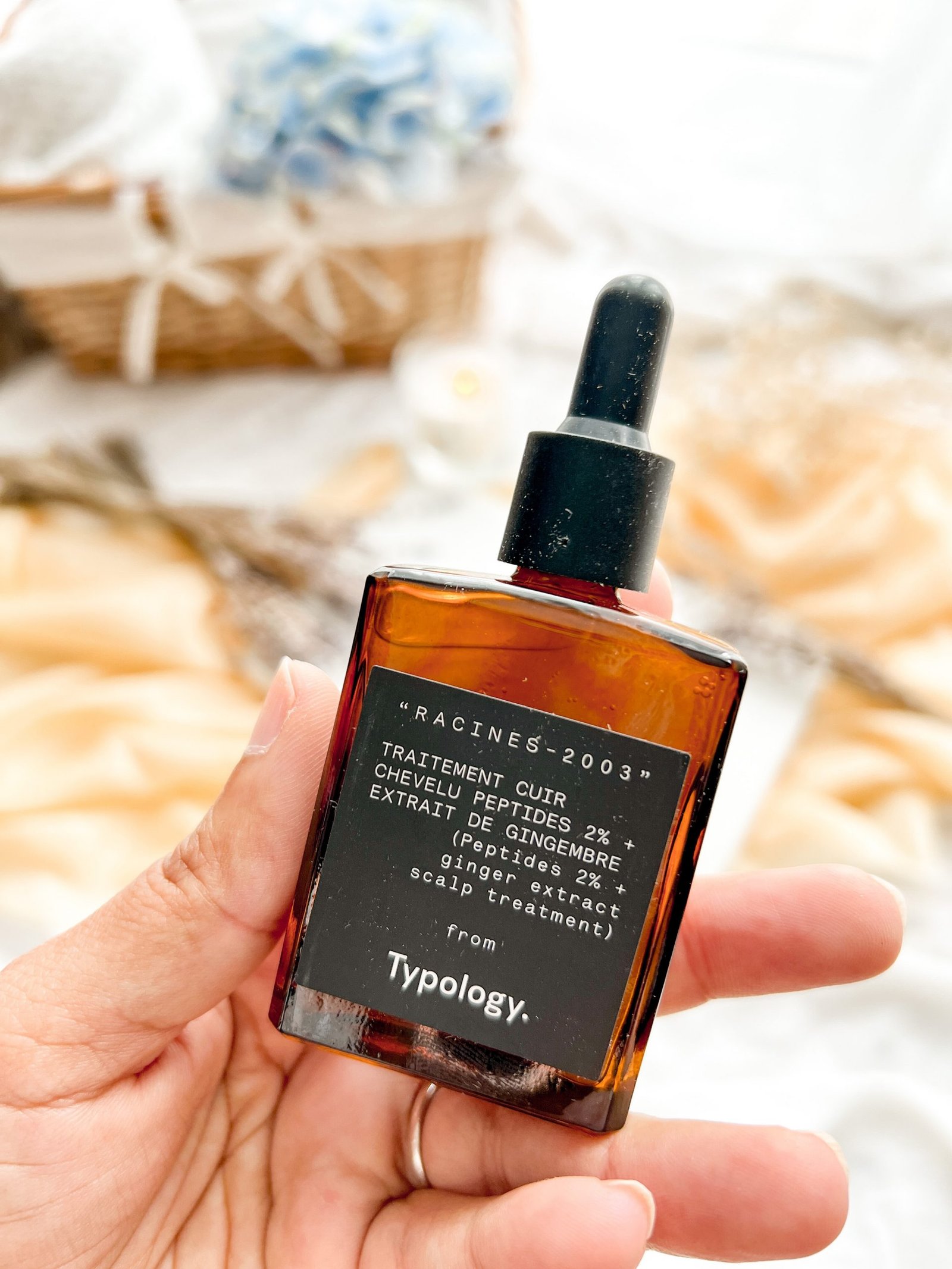 Overall, for me, it's too early to tell if this serum works in terms of hair growth. But I like that it has a light texture; it's non-greasy and it penetrates quickly into the scalp. I am, however, going through it pretty quickly as you have to use quite a few pipettes throughout the week.
At a price point of £35.10 for a 30ml bottle, it is expensive, to say the least. I will update this review when I finish this bottle to advise if it worked in promoting any new hair growth. However, when it comes to hair volume, I totally stand by the hair volume duo; it works wonders.
Application
After washing hair with Typology's volumising hair shampoo, apply 2 pipettes of the serum to a clean and dry scalp. Massage the scalp until completely absorbed. Repeat once a day.
Shop the list
Overall, I am impressed with the hair volume duo and Typology Paris is yet to disappoint me. All the above products are linked here in case you want to try them. Let me know how your experience with Typology's hair care products has been if you tried them.