Like Pinterest, Instagram is proving to be a big platform for inspiration be it for fashion, music or interiors you name it, although there is something to be said about the annoying blocks it keeps putting on you without any explanation! (more on that later)
So here is my latest observation, everyone on Instagram is giving a big nod to this 90's trend which I am always excited about *drum roll * the 90's slip dress.
This summer staple goes back to the styles worn by the likes of Princess Diana, Sarah Jessica Parker and Jennifer Aniston. It is also one of those styles that go from date night to casual real quick depending on the fabric and the way you style it.
This year's popular choice of fabrics are cotton, silky satins, or linen but the great thing is they can all be styled with strappy heels/mules for a dressy look or sneakers for a casual look or Boots for transitioning into Autumn.
Some styles are doing a lot better than others past few months. We are not just sticking to satin this year I see a lot of us are loving Linen keeping up with the heatwave, because satin is unforgiving when you add sweat to the list. So my hack is to wear it with a shirt or a t-shirt under it for day time if you are going somewhere hot.
But here are some other slip dresses that are really popular at the moment.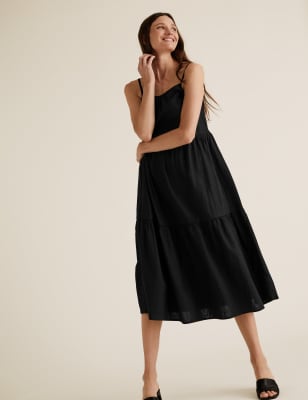 The above style with some rushing and a key hole is totally bringing back Rachel Green Vibes from the 90's.
The above red number from Topshop is a little tribute to the styles Princess Diana famously wore in her day.
So this year , do not shy away from a slip dress because it is such a great piece to have for a seamless transition into Autumn as well.
What's your favourite 90's trend?