When visiting the south of France you will be spoiled for choice when it comes to Beach Clubs. And a little research before you visit will take you a long way! So in this post, I bring you information on some of the best beach clubs in Nice, France.
Nice in France is a great base to explore the south of France. And while you spend some time here there are so many gorgeous beaches that you can visit. The only thing is the beaches here don't have shade unless you bring your own parasol, which is where beach clubs come in handy. But some of these beach clubs can be really expensive and in peak season it gets a bit difficult to get a sunbed. This is why it's very important to do your research on which beach club you want to go to, and then book it ahead and time.
In this post, I'm going to break down some of the most amazing beach clubs in Nice France. Hopefully, this can help you make a decision about which one you wanna go to.
What is a beach club?
A beach club is typically a private beach area allocated to a wellness club/hotel or restaurant. In the South of France, it is quite common to have private beach clubs where you can rent sunbeds, umbrellas, towels etc. for a lovely beach club experience. There is almost always a restaurant attached to the beach club so you can order your meals and drinks there. You can hire the sunbeds for half a day or the whole day. Some high-end beach clubs will also offer massages etc.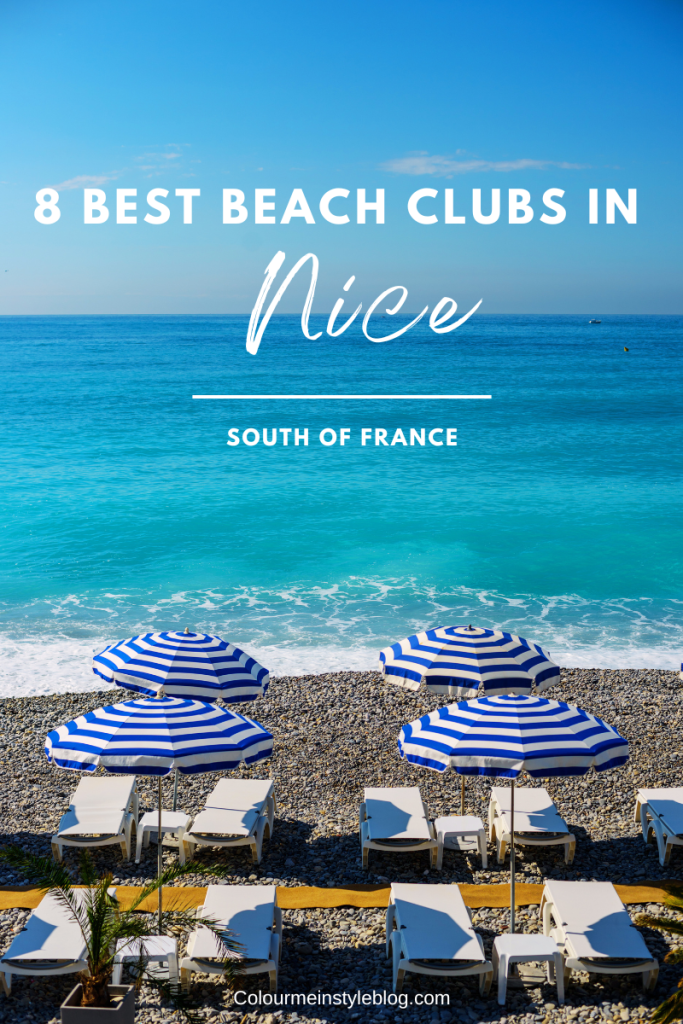 List of the best beach clubs in Nice, France?
When in Nice you will be spoilt for choice! However, getting in there quick and booking the sunbeds as soon as you can is key to getting the ones you want! So here is a list we have all been waiting for –
1. Ruhl Plage
Ruhl plage is one of the popular choices of beach clubs in Nice and hence a tad bit expensive. The good thing is you can book online in advance. They have these typical French Riviera stripy parasols if that's your vibe!
The facilities and the restaurant does get some great reviews so that is always a plus.
Cost for Ruhl plage one of the beach clubs in Nice
Sunbeds are available from 9 hrs until 19 hrs
Double bed (with parasols & towels): 90 €
Single sun bed: 23€
Parasol: 7 €
Towels: 7 €
Location: 1 Promenade des Anglais 06000 Nice
2. Opera Plage
Another great option for a beach club is Opera Plage with old Nice nearby. This Nice beach club has some of the most beautiful hotels in the background with Hotel Negresco sitting pretty nearby. It just makes up for an amazing photo opportunity.
The sunbeds here don't have a soft mattress like some of the beach clubs do but they have 250 sunbeds which makes it more likely for you to get a space in high season. One other thing to note is that the beds are fairly close together.
Cost for Opera Plage one of the beach clubs in Nice
FRONT LINE SUNBED FULL DAY: On the front line with umbrella and cabin included
30.00 €
BACK ROW SUNBED FULL DAY: For the day, with an umbrella and cabin included
25.00 €

SUNBED HALF DAY: With umbrella and cabin included
19.00 €

SPECIAL RATE FOR PARTNER HOTELS AND WORKS COUNCILS: A day at the beach with umbrella and cabin
21.00 €

PASS 12 DAYS: Non-nominative subscription, 2 days offered
250.00 €
Location: 30, Quai des Etats Unis 06300 Nice
3. Plage Beau Rivage Nice
Right up there with some of the other popular beach clubs in Nice is Plage Beau Rivage. With excellent French cuisine available you are sure to enjoy your beach club and restaurant experience. They also offer some amazing beach canopies with double sunbeds that are fantastic for a small family or a couple. Another thing to note is that Plage Beau Rivage is also a happening party spot in the evenings. So if you are looking for a great night out at the beach, this is it.
You can't seem to book this online so you will need to call them.
Cost for Plage Beau Rivage one of the beach clubs in Nice
Here are the 2023 rates
Classic:
From 2pm: €22
From 10am to 7pm: 28€
Double Bed (with umbrella):
From 10am to 7pm: 75€
Canopy / Cabin :
From 10am to 7pm: 100€
1st line / 1st row: 5 € extra
Towel: 5€
Lockers: 7€
Umbrella: 5€
Contact: 04 92 00 46 80 for booking
Location: 107 Quai des États-Unis, 06300 Nice
4. Cocoon Beach Club Nice
Cocoon is an excellent choice when it comes to beach clubs in Nice. They offer amazing sea views and one of the best beaches on the Promenade des Anglais. I love the white and blue theme going around and the whole aesthetic feels nice! It is also reasonably priced and one that I am so glad to be going to.
Prices for Cocoon Beach Club in Nice
Deckchair 1st line: 30€
Deckchair 2nd line: 25€
Deckchair 3rd line: 20€
Towel rental: 10€
Location: 165 Promenade des Anglais, 06200 Nice, France
5. Castel Plage Beach Club
Castle Plage Beach Club is another fantastic option to go to when in Nice. This charming private beach club and restaurant is near the Old Town of Nice. Castle Plage offers a warm ambience and pristine views with the restaurant catering some classic bistro dishes! You can enjoy a meal as early as 10 am or as late as midnight.
They offer online booking for their deckchairs which you can book via their website here.
Price for Castle Plage Beach Club in Nice
Deck chairs all day: 30 €
Parsol: 5 €
Towel: 5 €
6. Amour à la Plage Hotel Beach Club Nice
If you have found the South of France TikTok wave then you will know that Hotel Amour is getting rave reviews for its restaurant. But did you know that they have their own private beach club?
Sunbeds are available all day long but there is no indication of the price on the website. And you have to call them to book.
7. Hotel Negresco Beach Club
If you are after proper Nice luxury then Hotel Negresco's beach club is by far the most luxurious and the best beach club in Nice. Right from the spacing of the sunbeds to the quality of the sunbed mattresses it is great attention to detail. The whole scene with the white parasols and white sunbeds with the gorgeous hotel property in the background feels straight out of an episode of White Lotus if you ask me!
If you don't mind paying a little extra for that luxe feeling go here for sure!
Price for Hotel Negresco Beach Club in Nice, France
Deckchair and Parasol
45 € per day per person
55 € in the front line
150 € for a double bed
To reserve call: 04 93 16 64 08
Location: 37, Promenade des Anglais, 06000 Nice
8. Bay Star Beach Club
If you are looking for a budget option there is always Bay Star Beach Club near the Cap 3000 mall. This is a great choice for people staying near the airport. This is also one of the only beach clubs in Nice that has sand underneath rather than rocks. Although the beach on the whole is rocky, adding some sand definitely gets some brownie points in my opinion.
Cost for Bay Star one of the budget beach clubs in Nice
Full day sunbed: 25 €
Half day sunbed: 16 €
Best beach clubs in Nice, France on a map
Here is a handy map of all the beach clubs mentioned here in this post. You can click on each one to see where they are and catch some more info about them. Also if you want to do a Beach club hop this post and the map is perfect for it!