Hi everyone! I am back with another breakfast bowl recipe for you. This is a hot favorite in my house and I really enjoy making this one. But before we dive into it, how has your week been? It's been a long week for me somehow and felt a bit out of mojo lately. But I keep telling myself consistency is key, and it gives me strength to power through.
This is why I am bringing you my favorite and comforting smoothie breakfast recipe. It's one of those feel-good recipes that you would want to save for later. If chocolate is not your thing check out my previous recipe post about the Berry smoothie breakfast bowl.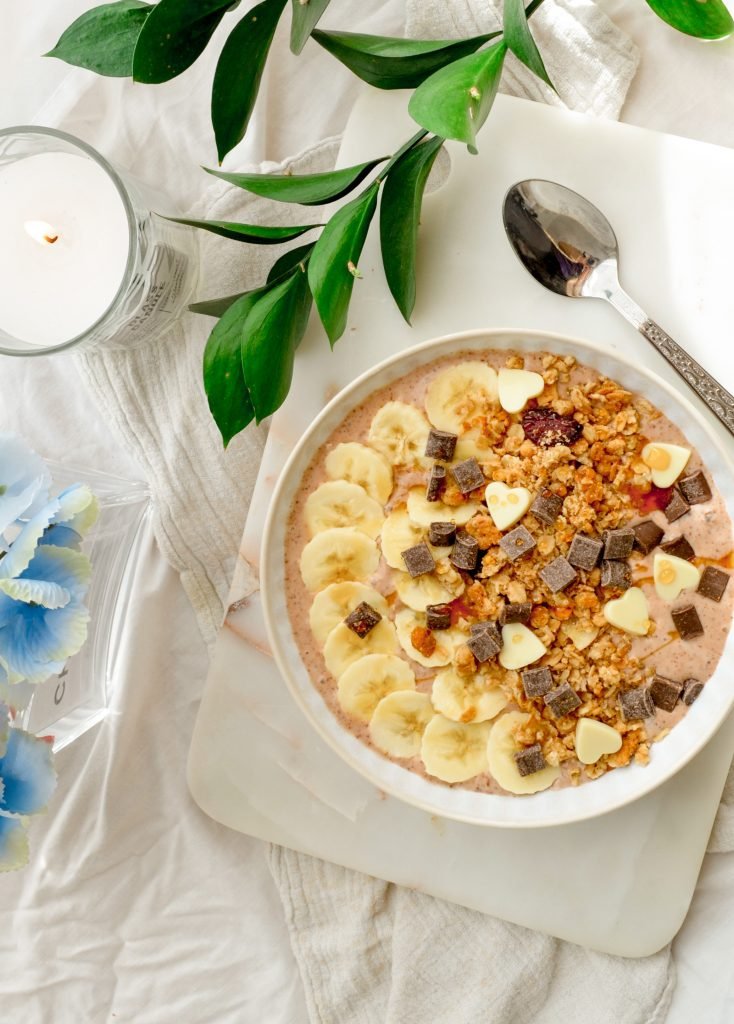 This is a quick and easy recipe for yet another beautiful-looking smoothie bowl that is just as delicious as it looks. I will link all my ingredients for you below.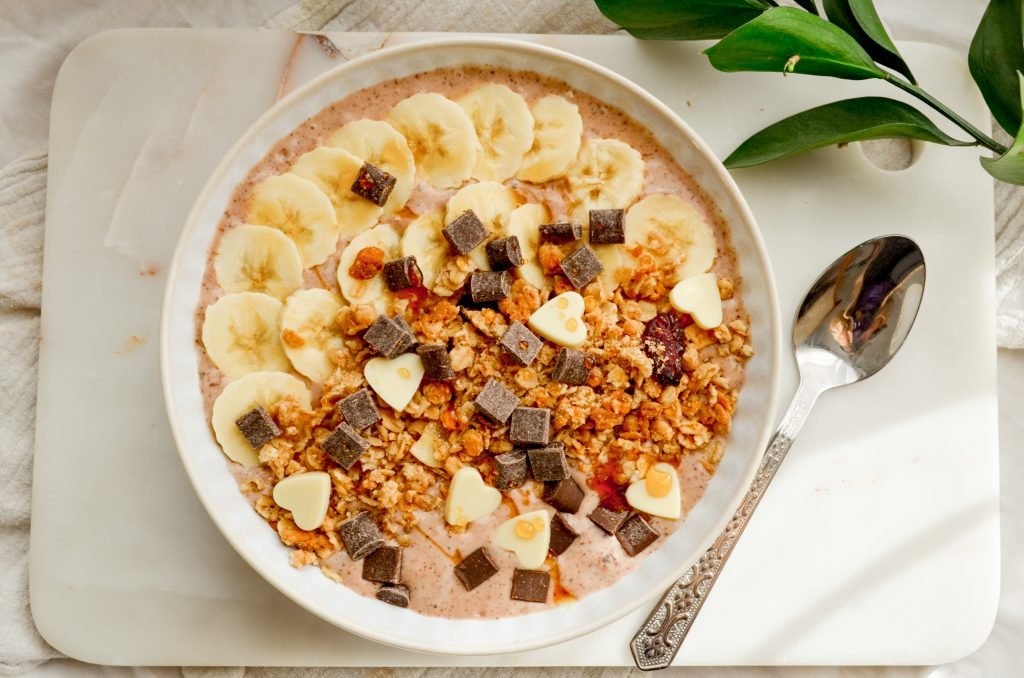 Ingredients
2 dollops flavored greek yogurt (vanilla)
1 dollop of Milk and dark chocolate Icecream (skip for a diet version)
1 frozen banana
1 teaspoon Peanut butter (could use Nutella instead)
Granola mix of your choice
Sliced banana for garnish
Dark chocolate chunks to garnish
Chocolate hearts to garnish
Honey drizzle on top
Shop the ingredients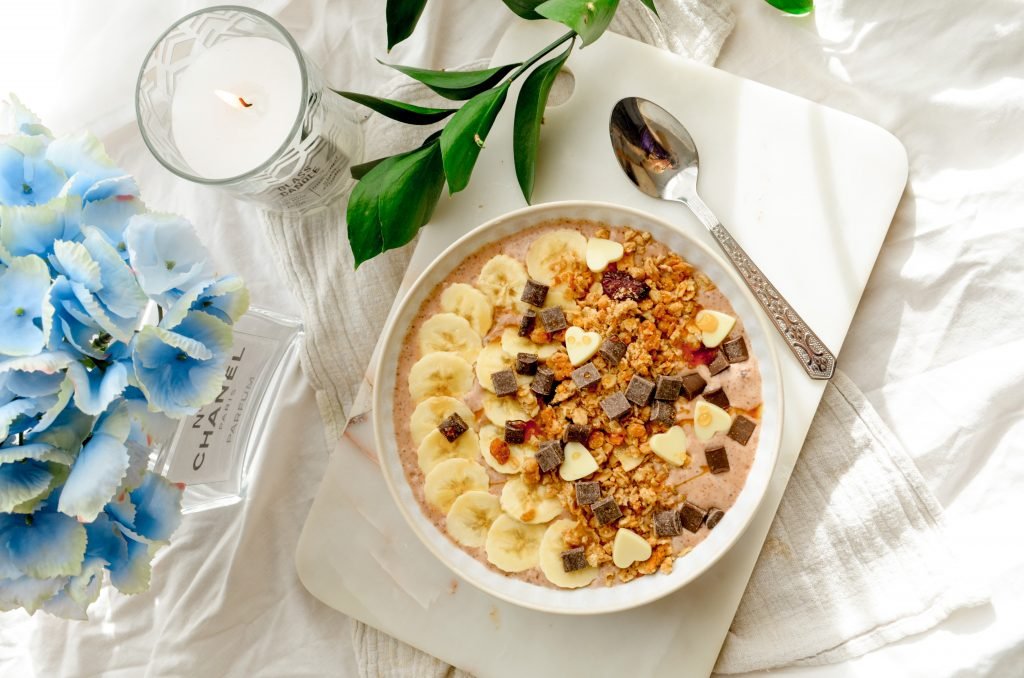 Recipe
Once you have all the ingredients this bowl should be ready in 8 mins
Blend together the flavored greek yogurt, ice cream, frozen banana, and peanut butter in a smoothie blender.
Add the smoothie mixture to a serving bowl.
Deep freeze the mixture in the freezer for 5 mins, while you slice your banana and get other ingredients for the garnish ready.
Once you have the smoothie bowl out of the freezer, garnish the bananas, granola, chocolate chunks, and add a bit of runny honey on top.
Enjoy straightaway.
Recipe notes
It is important to use frozen yogurt and frozen bananas as it gives the smoothie a thick consistency.
The reason I pop the smoothie in the freezer for a few mins before I garnish it is to keep it firm while I slice the fresh ingredients. This step will make sure your garnishing stays on top.
The peanut butter or the Nutella can be skipped if you don't like it but it just brings in the added taste to the recipe. Since we are not actually using any sugar in this recipe.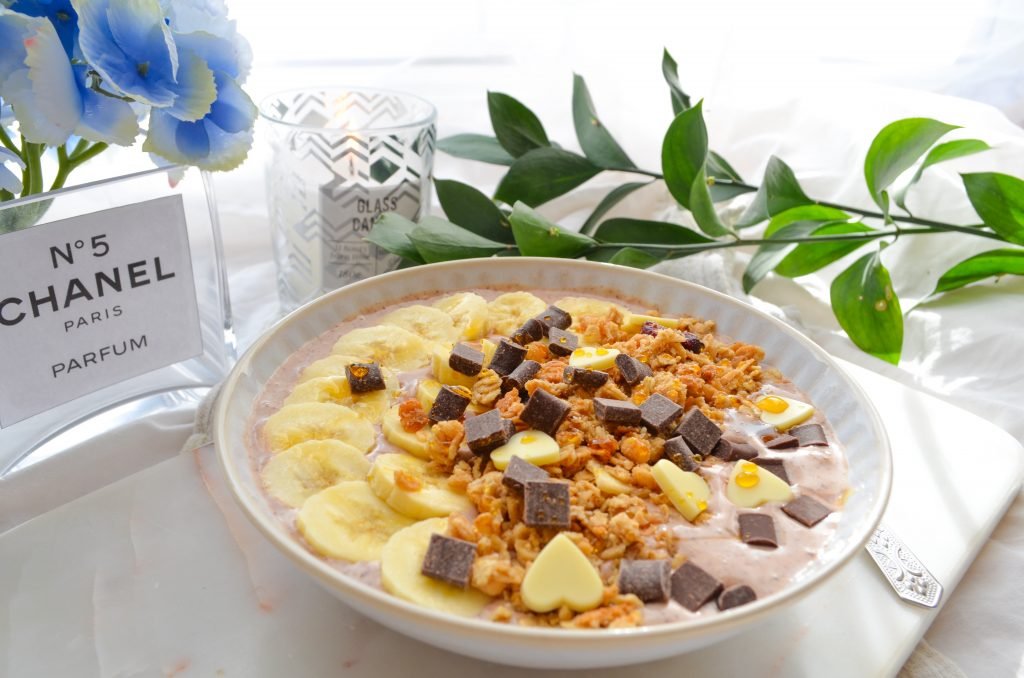 I hope that you will try this smoothie bowl and enjoy it as much as I do. If you try this recipe let me know how it went. Lastly, it would help me hugely if you could pin the below image on Pinterest it helps the blog grow. I will see you next week with another post. Ciao!