Ladies! Layering season is officially here and i am dying because a) i want them – coats, b) there is literally no space in my little house to store them and c) i still haven't won the lottery YET! It is an investment after all.
A good coat is every fashion bloggers dream when it comes to autumn/ winter. Because that is what essentially makes or breaks your outfit in these cooler months.
Confession time – up until early last year, i never bothered buying more than one or (two at a stretch), coats for each season. Which means no matter what i wore inside , i would still be wearing that one coat over everything! In my defence when i used public transport i was always running around wearing that same old bulky coat to keep me warm and dry from the rain thanks to ever so rainy UK.
However, at my current work place I have a colleague who wears the most enviable coats! Which made me think about different coats out there. But the main change came after i got into a bit of a fitness regime and lost a bit of weight which meant nothing fit me anymore. From that point i decided (much to my husband's despair ) every year i will invest in one coat each season until i have enough.
So lets take a look at whats hot for Autumn/ Winter 2020 shall we? I am sure you can find the one for you in this list!
The Trench Coat
The best news is that this autumn staple is not going anywhere. I must recommend this classic Trench because it will last you a lifetime. Invest in one that is knee length or slightly longer to keep you warm in those Autumn months.
I also have this slightly lightweight trench in navy which really brings some colour to my outfit. Perfect for September when its starting to get cooler but its not so cold that you need a proper coat. This is also a winner for early spring when its starting to get warm but is still breezy.
Zara has so many fantastic options for a Trench Coat the one below is my favourite.
Camel's Back
Forget black, the colour Camel is back for autumn /winter 2020. If you are one for classics this is the one for you.
2020 has been all about Neutrals and camel is such a fantastic colour if you want something that will last you a long time.
If you want a bit of fun go with this Boden camel coat which has some colour blocking on the collar and the sides. i will be keeping a watch on this one in SALE season!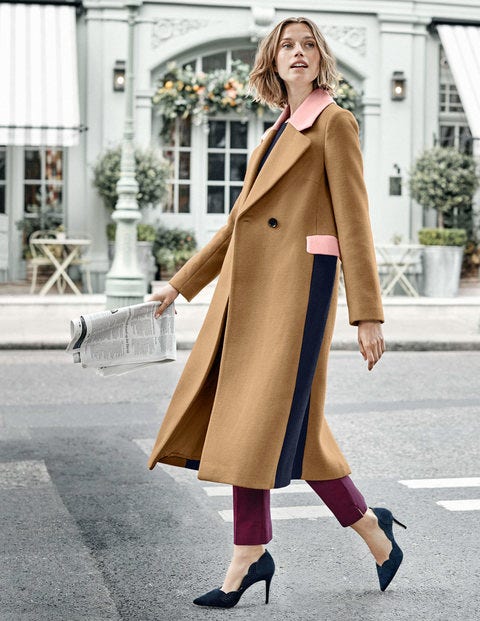 A Coat of Colour
I know i said Beige is back, but if you don't desire beige go for a colourful coat. I bought this Yellow coat last year but it is not going anywhere! This coat always steals the show and surprise, surprise it comes from Tesco! which goes to show there is always a good looking bargain out there, and not everything has to be expensive.
If yellow is not your colour then try Pink or Lilac or powder blue because we are not shying away from colours this season! Be it Pastel or shocking bright colours.
This Max Mara coat is giving me such soft girly vibes. I dont know why it reminds me of the perfect English Rose.
This River Island coat is just the right colour and can be styled glam or casual.
Long Checked Coat
Checks are so in and everyone is sporting that checked blazer but a long checked coat is the winning horse here!
Is anyone else getting the Sherlock Holmes vibe?
This ONLY coat has a really nice classic masculine check design that would looks really sleek and professional.
H&M is not far behind with their coats this season and below is a fine example this wool blended coat is a total winner. It is the right length and the checks are subtle.
Cape Coat
This is a tricky one because you need to do it right, you have to get the fabric of this coat right or you risk for it to look like a cheap poncho , which is a no no in my books!
This design was by far the hardest to find in ready to wear but it is thing on runway! I found this one from The White Company which i think is amazing! It looks so cosy and yet the right amount of subtle glam with the placement of the belt and the structure of the silhouette.
Another great option is this Saint Laurent wool cape coat which is in the colour camel 2 birds in one stone? I love the sleeves.
I Am Wearing The Duvet Coat
As the name suggests pick out your duvet coat – or in plain English the padded coat. Great for colder months and also for comfort!
You probably already have one? The super quilted, bulky and cosy coat is in, so get it out there!
One really unusual duvet coat i found on Net-a-Porter was the below – absolutely genius!
So far I only have 3 of the above. Do you have all six?