Hello, I hope everyone is coping well in these crazy times. I for one, have had a hectic and maddening week. I am all about being positive but there is something about homeschooling that really got to me last week. So here is a date idea with myself that made a lot of difference to my day.
So this weekend I basically wanted to have some time to myself, like a little date idea but with myself. Something I thought was not possible in lockdown, but I took the time to relax and have a chilled few hours away from the chores, work and homeschooling.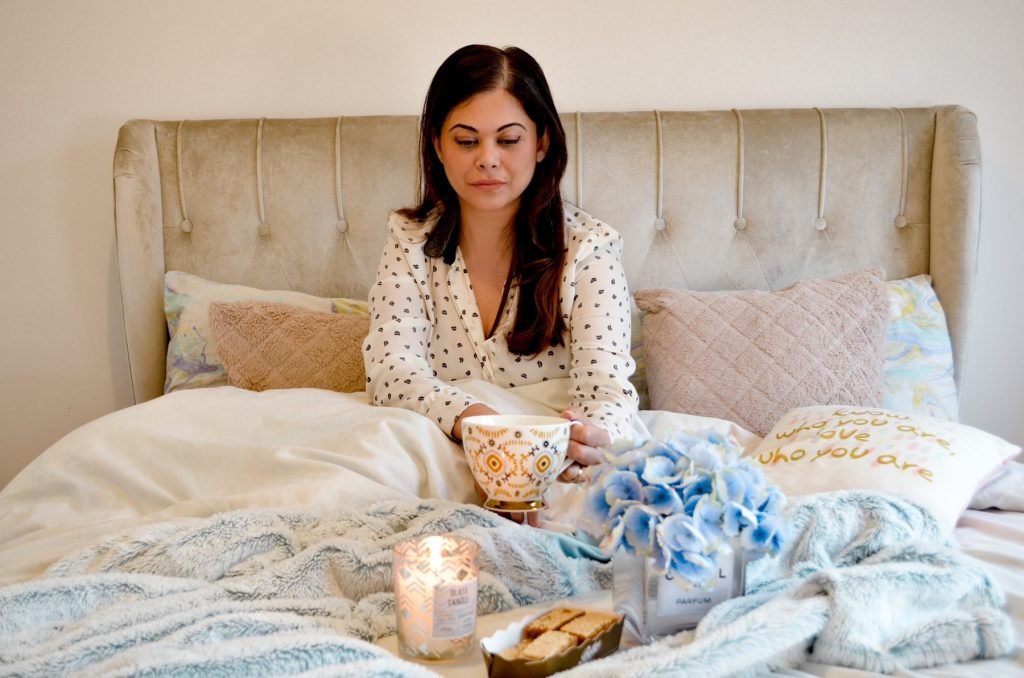 I decided it was time for tea for one in bed! Just a simple pleasure to brighten my day. I just had an hour and a half to myself Saturday morning just to get rid of all the crazy and align my positive thoughts.
So during these moments of being alone with my thoughts, I was thinking about everything I accomplished last week despite the madness. I put on my playlist of violin covers by Daniel Jang and just let my mind wander. I am hearing more and more good things about the power of affirmations lately and in some ways when I look back certain things that I had told myself did come true for me, not always at the time but somewhere down the line. Affirmations are a whole new territory for me but something I feel like I may be open to. Have you tried them ? Do they work for you?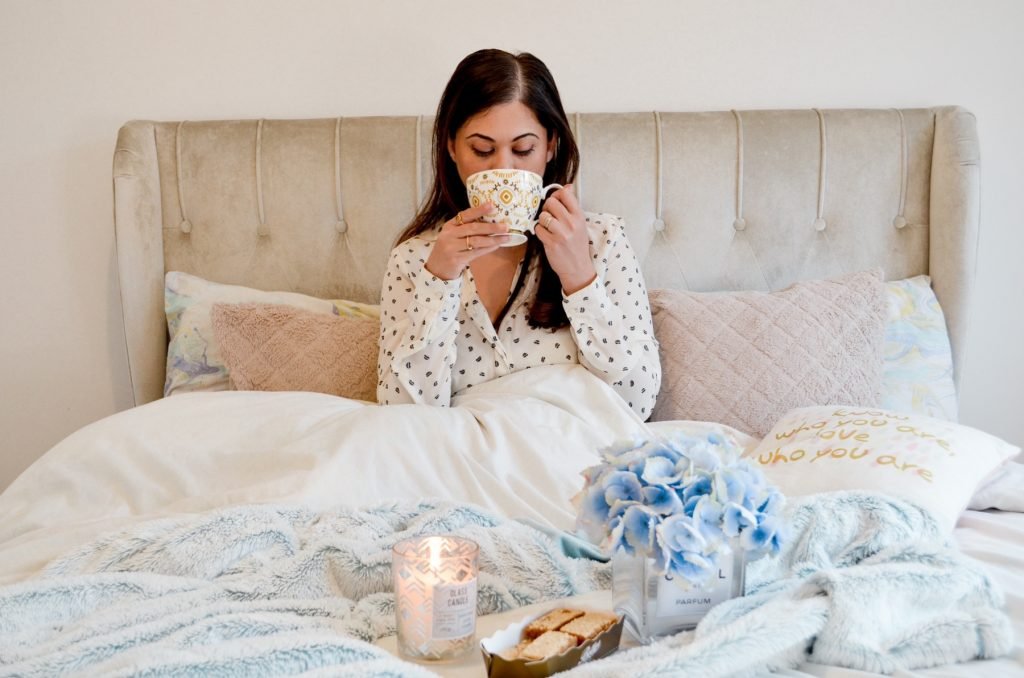 All these thoughts about simple pleasures made me want to list some of mine, are you ready?
Freshly baked brownies.
The twinkle in my tiny human's eyes when she comes up with a plan or realises something.
Chai in bed
The smell of Tesco Gold instant coffee.
The lingering smell of Acqua di GIO by Giorgio Armani perfume for men.
A glorious sunset.
Laughing till you cant catch a breath.
Listening to my little lady's laugh.
Smell of a coffee shop.
The feeling when the postman brings your online shopping.
Warm sand under your feet.
Long sunny days
A plant 🪴 thriving
Fresh cut peonies
Walking on snow
Making snow logs.
The smell of freshly baked bread
The smell of Canadian Poutine
A barbecue burning
Cuddles on the sofa
Getting the lyrics right to a song
Hot showers
Watching my man in his natural habitat… often being very silly (and the awful singing)
Freshly fried chips 🍟
Planning a party
The rush of endorphins after a great workout
The feeling of finally fitting into an old dress.
The smell of a new book
The freshness of Mint
Meeting your girlfriends after a long time
Finding the right dress for an occasion.
Daim Bars
I think this list could go on but thinking of all of these made me realise I have experienced most of these things while in lockdown. I figure that means I should count my blessings?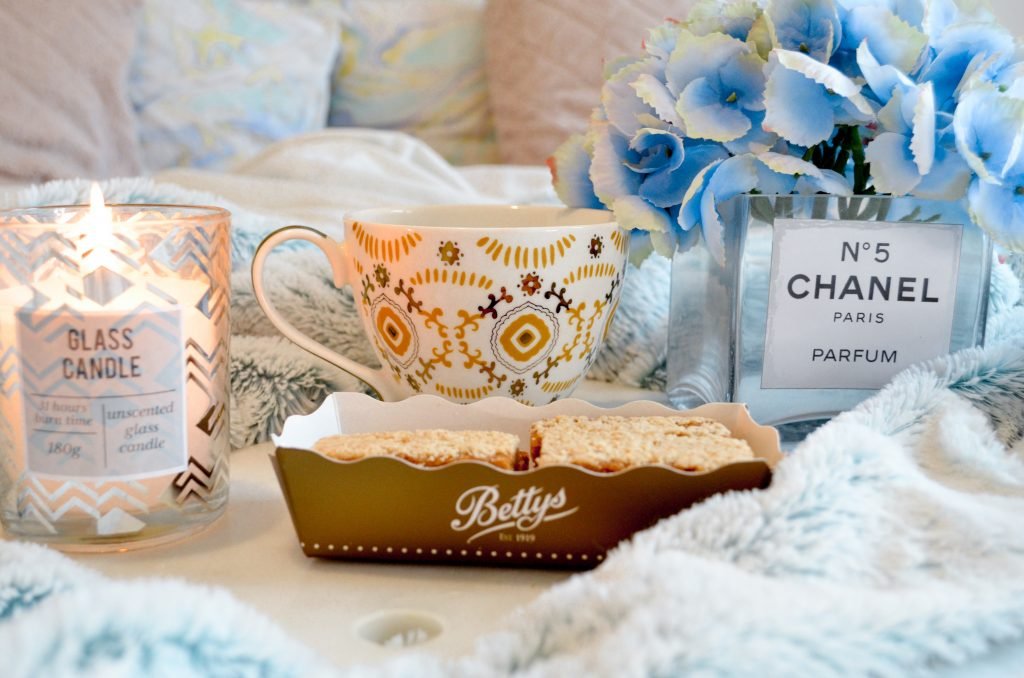 Moving on, if you are Indian you know all about Chai in bed and over the years I have given up on the habit so this was a great experience. I relished my Yorkshire Gingerbread by Betty's which were a present. (thanks D) These ginger breads have stem ginger in it and are so beautifully gingery it's all very refreshing which is why they were perfect for the occasion.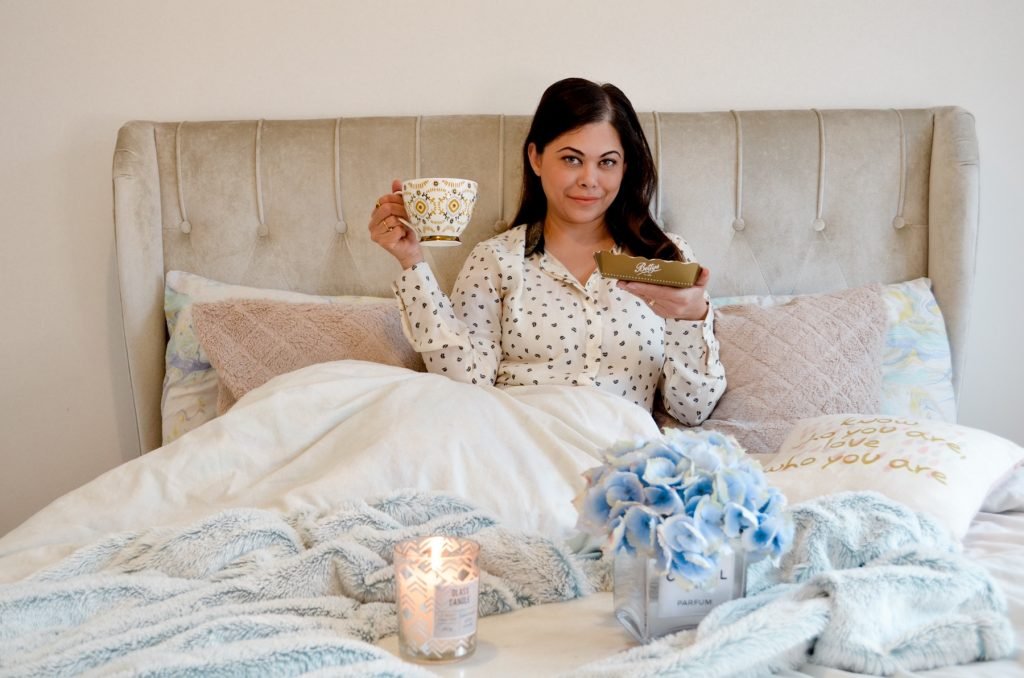 Check out Betty's bakery if you haven't already because they deliver all over the UK. They have beautiful hampers, individual cakes , biscuits, chocolates, tea and coffee. Everything you need for your special tea for one or two experience. These hampers also make great presents for Christmas or birthdays.
Betty's if you are watching this – Please sponsor me!
I am wearing a coffee bean print shirt with an ornate collar over my pyjamas. The shirt is a present from a friend (thank you my tough Russian friend). The shirt is from a brand called Scotch and Soda by Amsterdam Blauw. They are based in Netherlands and if you like clean lines you will like them.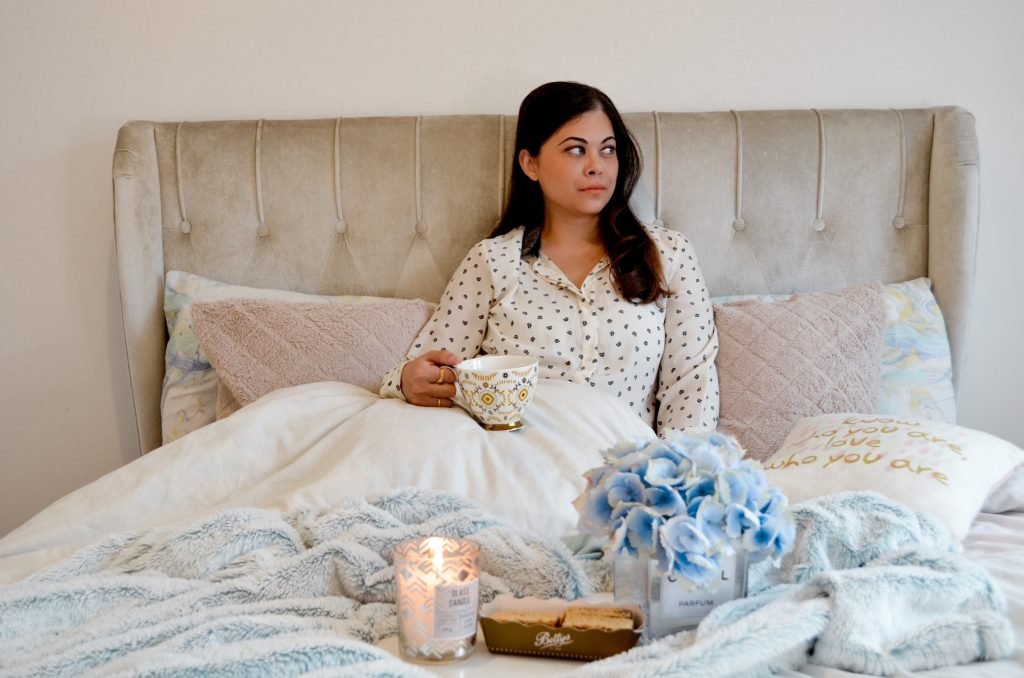 Lastly, I have to say to all of you reading – take some time off. I know it doesn't seem like much right now as we can't really go anywhere especially if you are in the UK but taking some time out for yourself whether you are working from home or just fulfilling your duties as a mum/wife/husband/dad/sibling, will do you good.
When you are feeling overwhelmed or out of sync, it is just to nice to take a nap, or take a long bath/shower or work out, go for a walk, read a book, dance to a tune or simply close your eyes and breath. It helps!
My husband and I have been taking turns and having our me-time this lockdown which helps us balance the crazy with a bit of peace and quiet. Parenting is joyful but it has its moments of pressure and stresses. Homeschooling as it turns out is harder even for an experienced teacher. I hope we all get through this year with lots of good times, simple pleasures and sensibility when we are allowed out again. Lets do this !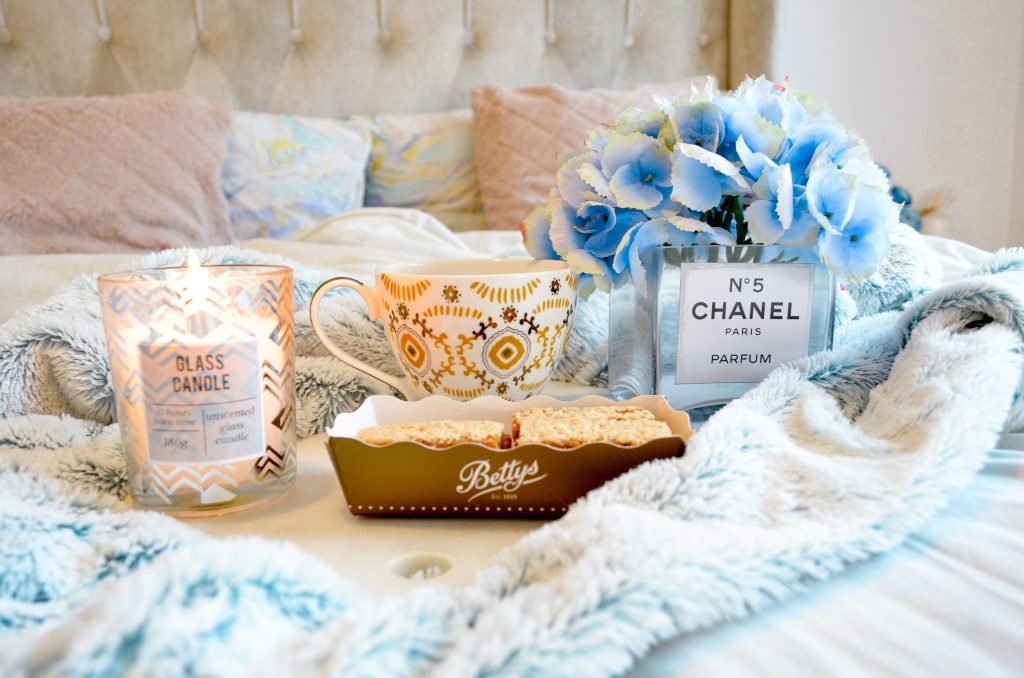 I am wrapping up this post with warm hugs and hope to see you all soon with something colourful to brighten your day, watch this space Xx