Welcome back, guys! Back to my old habits but in style, is how I like to think of the Satin midi skirt. My love for satin or silk slip dresses is well known but I am happy to announce that my obsession is actually the new wardrobe essential and if you don't have a satin/silk slip skirt or a dress you are missing something.
Satin skirt and fine knit jumper
I think satin skirts are such a great idea and can be styled for every season. There is no giving up on this fabric come winter or summer.
The Midi skirt is such a perfect length as you can see the gorgeous fall of the fabric and also it is extremely flattering on any body shape.
For the month of February when we are now transitioning into spring and it's not as cold but you still need your coat outdoors this midi skirt outfit is perfectly splendid!
Lately, this cosy fine knit high-neck jumper from Newlook has been my go-to whether it's jeans, trousers or skirts. It is perfect for these winter-to-spring transition days and also in autumn. In this particular look, I think it looks exquisite with my champagne satin midi skirt.
Totally inspired by the Parisian style aesthetic the aim was to keep it neutral. So I have paired my beige satin skirt with my camel coat and nude heels. The Bottega Veneta cassette bag in plaster (white) is a perfect fit for this outfit.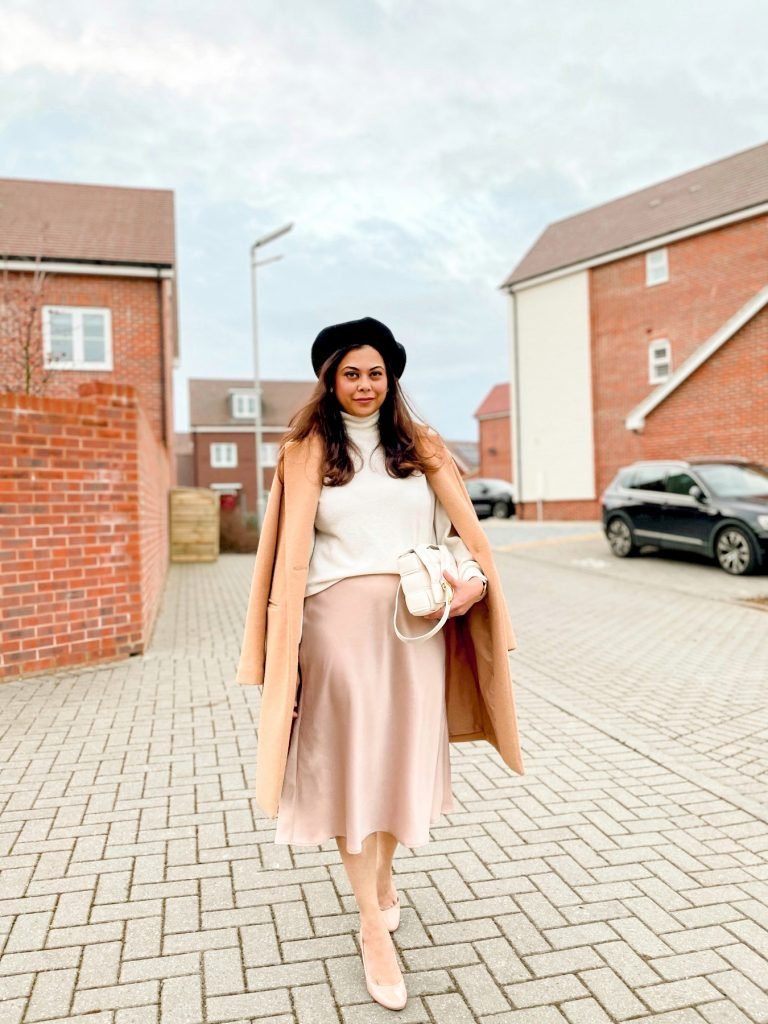 I think I might just get myself a few more of these skirts in different colours for spring/summer as this might just be my uniform in the coming months.
I got my Satin midi skirt at Shein GB. The quality is surprisingly very good for the price. I have to stress it is hard to find a champagne or beige-coloured satin skirt that is sensibly priced at the moment. The one I have on is sold out and so are all the ones in most high street stores.
However, you can find similar ones that I have linked below.
In other news, I got featured on the H&M website for my mom jeans look from my last post. Here is a little look.
Hope you enjoyed this post I will be back soon with more. Have a great week ahead.