Hello and welcome back to Colour me in style. Today's post is all about my favourite city break – Lisbon. A city I had the pleasure to see when my husband and I couldn't afford to stay in lush hotels, very early on in our marriage, oh those were the days! Despite being on a budget I would rate my experience of the city as one of the best city breaks I have been to. One of the reasons is that you will never wonder about what to do in Lisbon, there is always something you could be exploring!
Portugal's capital is buzzing with life, colour, and culture. There is so much to see and do but I will be sharing some of what I thought was the best about the city.
Things to do in Lisbon, Portugal
Lisbon is full of surprises and there is so much to see and do that you will never be bored. Here are a few of the best things to do in Lisbon also known as – the most Instagrammable places in Lisbon! There is beauty in every corner of this city and is a delight for food and architecture lovers.
8 most Instagrammable places to see in Lisbon
Here is a quick list of the must-see and most Instagrammed places in Lisbon for you. Are you ready?
1. Arco da Rua Augusta – The famous Triumphal arch of Lisbon
Arco da Rua Augusta or the Triumphal arch of Lisbon is an impressive arch and one the most Instagrammed places in Lisbon. It also makes for one of the best things to do in Lisbon. The arch symbolises the rebirth of a new Lisbon after the tragedy of the earthquake, fire and tsunami in 1755 which destroyed the structure there before. The area gets quite busy during the day as it is right around a busy market area similar to a high street. You can now also visit the top of the sculpture for a spectacular 360º view of Lisbon.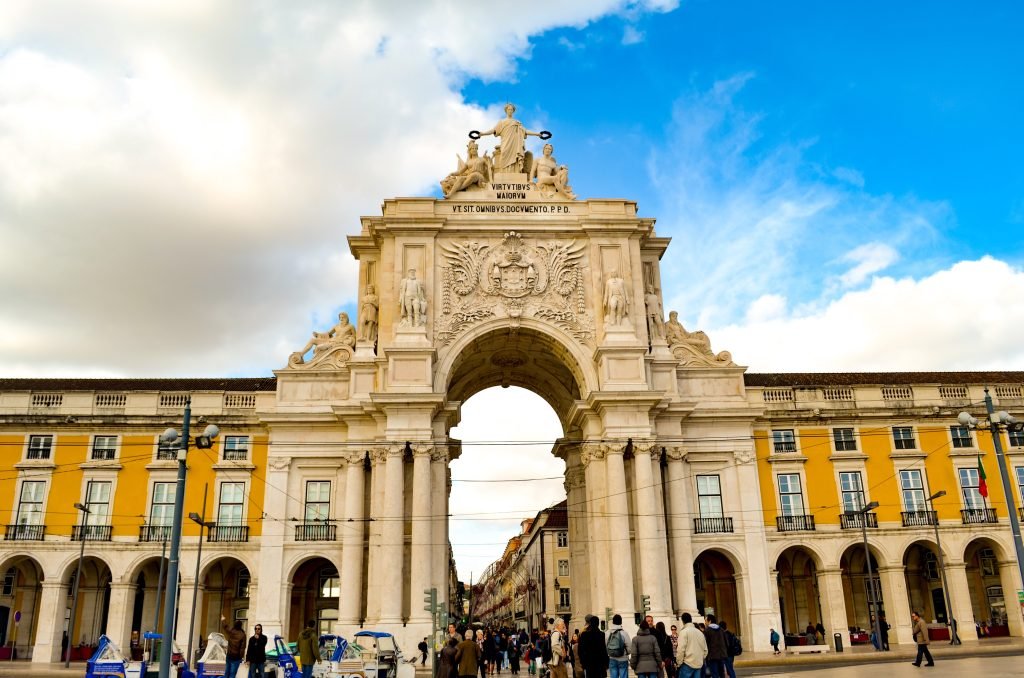 It is also worth capturing the arch from commerce square, go in with a wide-angle lens to caption this shot below. Early hours are recommended for a crowd-free photo moment.
Location: R. Augusta 2, 1100-053 Lisboa, Portugal
Open: 24/7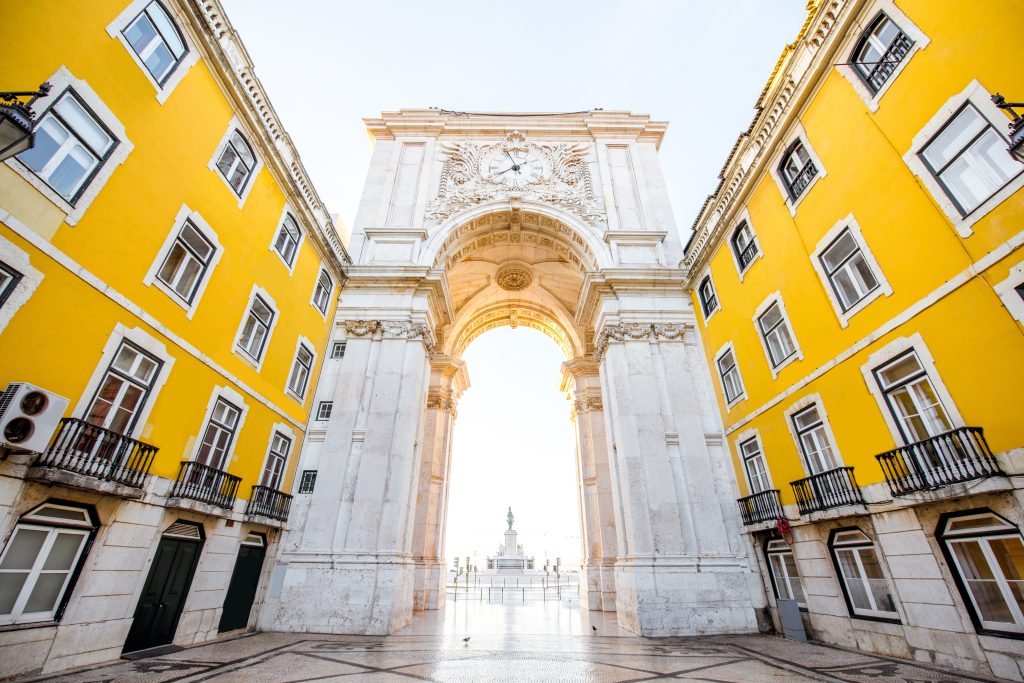 2. Padrão dos Descobrimentos – The Monument of Discoveries
This beautiful monument is a tribute to the Portuguese explorers. Padrão dos Descobrimentos is an architectural marvel just along the river and makes for a beautiful location! You can also climb on top of the monument to get sensational views of the river and the city. Which makes it another one of the best things to do in Lisbon! Imagine the views from the top!
There are plenty of buses that could take you to this spot, it is only 19 minutes from the city centre.
Location: Av. Brasília, 1400-038 Lisboa, Portugal
Open: Daily from 10 am to 6.30 pm
3. Belem Tower
Belém Tower was first built to defend Lisbon on the sea. Years later, it was transformed into a lighthouse and then a customs centre. It is now a famous architectural structure in Lisbon and definitely pretty Instagram-worthy. This spot was the launching point for many famous explorers such as Vasco da Gama and Henry the Navigator. You can cross a wooden pedestrian bridge to get inside the tower. Inside, you can climb the narrow stone staircases and find the old prison cells, as well as the harbour. It's 20 minutes west of the city centre and is quite close to Padrão dos Descobrimentos.
Location: Av. Brasília, 1400-038 Lisboa, Portugal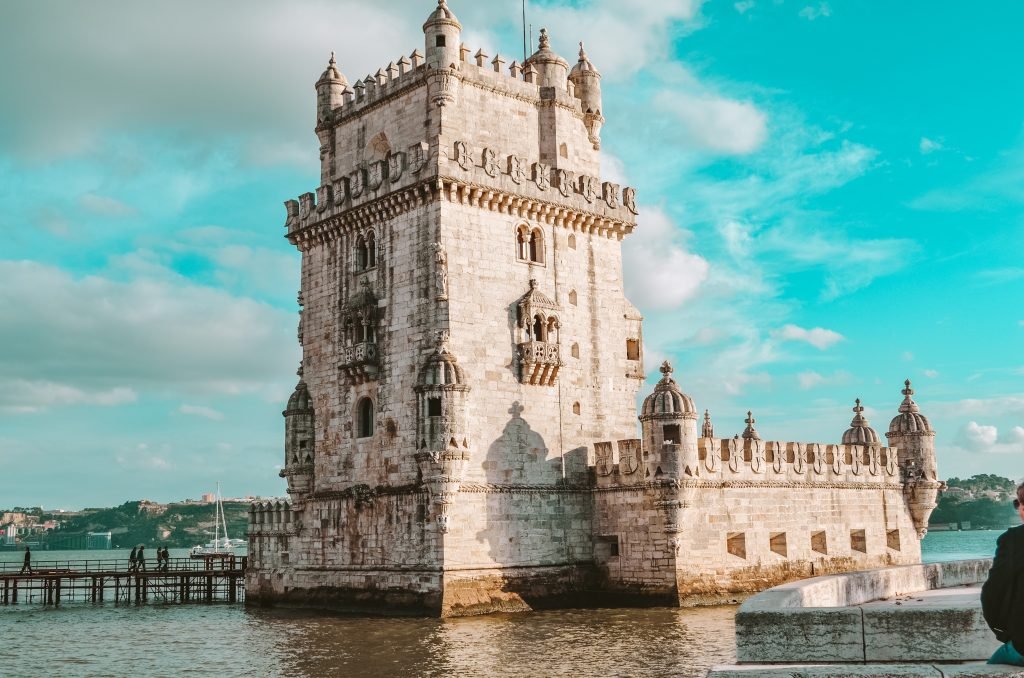 4. Elevador da Bica
Elevador da Bica is a funicular (a type of rail transit system) that rises up a steep hill to reach the top of the Barrio Alto or Bica neighbourhood. This is pretty much where you see the iconic steep tram line which is widely photographed in Lisbon.
Be prepared to have a lot of patience if you want to have that perfect photograph as this place is quite narrow and gets busy since its one of the most iconic places in Lisbon. Also, the steep climb is not a joke, that heart rate is bound to go up!
Location: Rua de S. Paulo 234, 1200-109 Lisboa, Portugal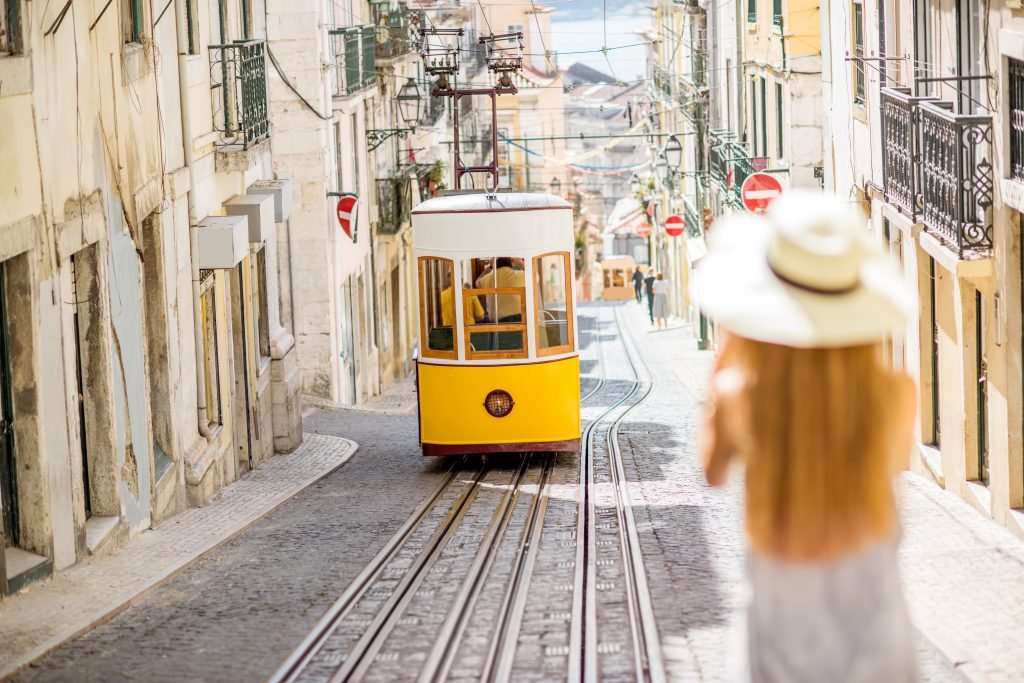 5. Santa Justa Lift
The Santa Justa Lift is a metal structure that dates back to the early 20th century. It offers great panoramic views of the city from its lovely viewing platform. The lift takes you to a walking path along a metal bridge which takes you further up where you can catch panoramic views of the entire city. If you can, come here at sunset when it is most magical. It is one of the highly recommended things to do in Lisbon in my opinion.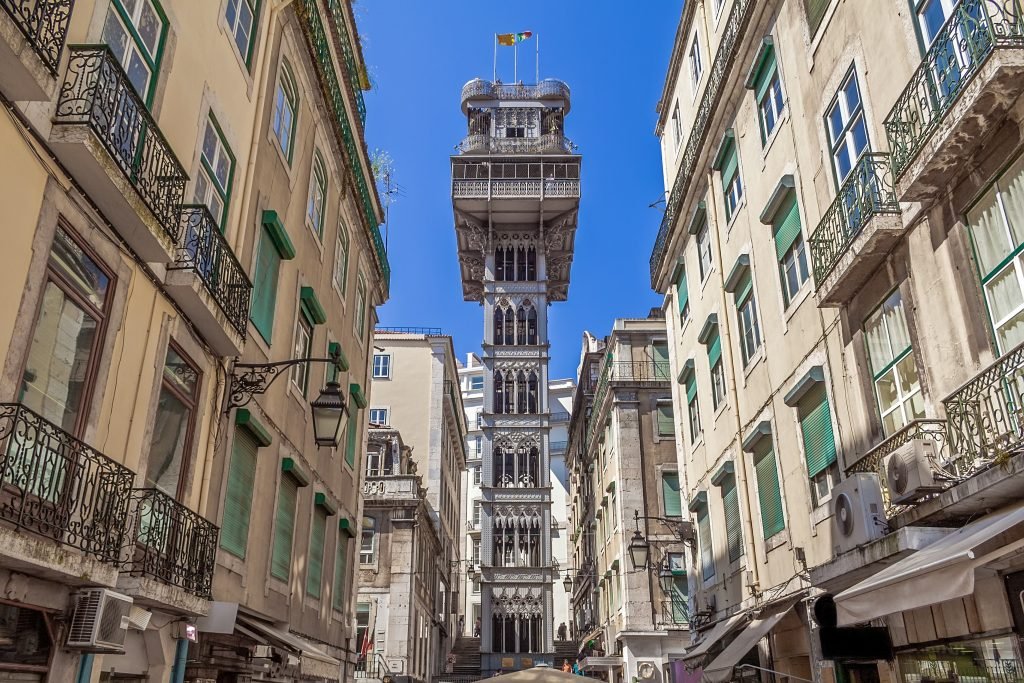 6. Oceanário de Lisboa
The oceanário de Lisboa is the largest indoor aquarium in Europe and is well worth the visit. If you have children then this should be on your list to go as it is quite enjoyable. There is also a cable car service that runs within the area and offers a nice day out if you are looking for things to do in Lisbon.
Location: Esplanada Dom Carlos I s/nº, 1990-005 Lisboa, Portugal
Open: Everyday 10am to 7pm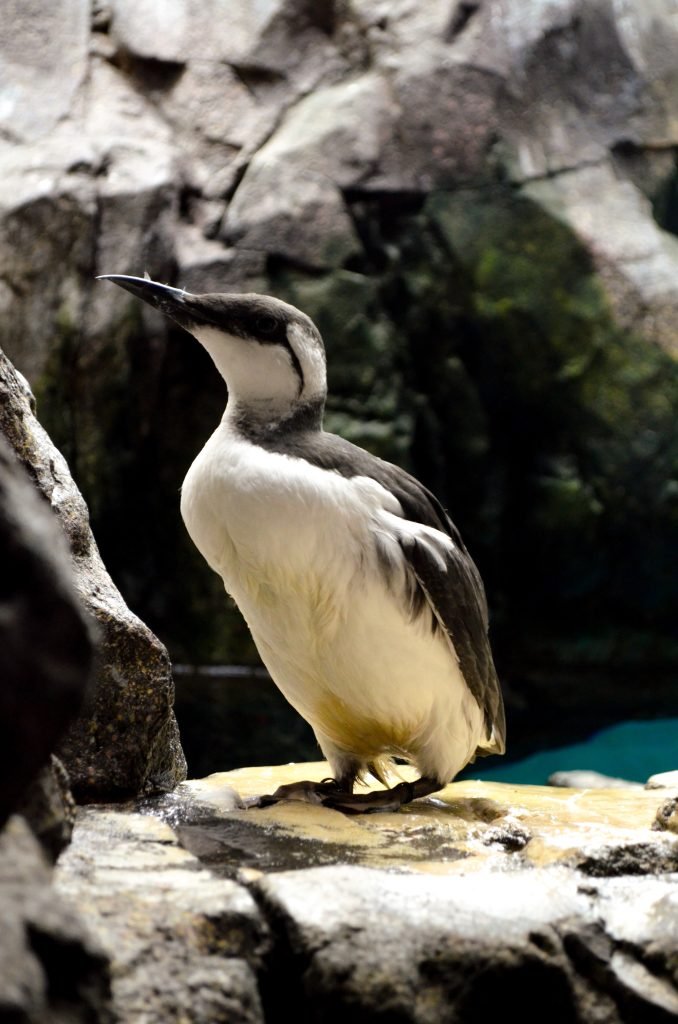 7. Castelo de S. Jorge – Saint George's Castle, Lisbon
Saint George's Castle stands on a sweet spot on a hill in the middle of the city of Lisbon which offers a great viewpoint from every direction. It is well worth visiting because it is such a historic building and an important one in Lisbon's history. You can either take a tram or the hop-on hop-off bus is also a great option to reach this spot.
Location: R. de Santa Cruz do Castelo, 1100-129 Lisboa, Portugal
Open – Everyday 9am to 7pm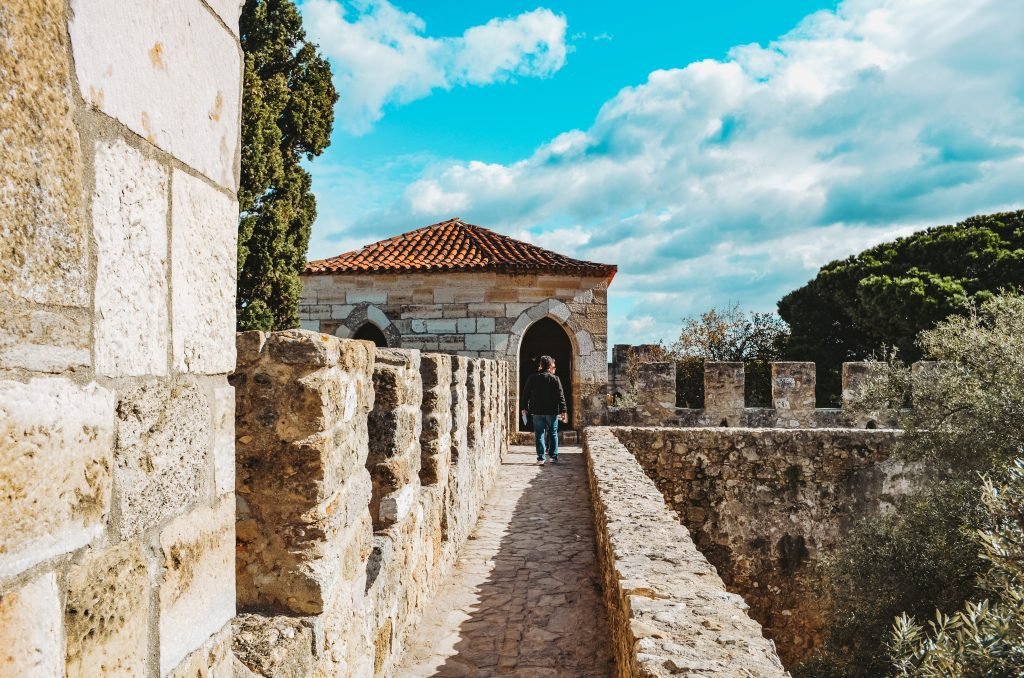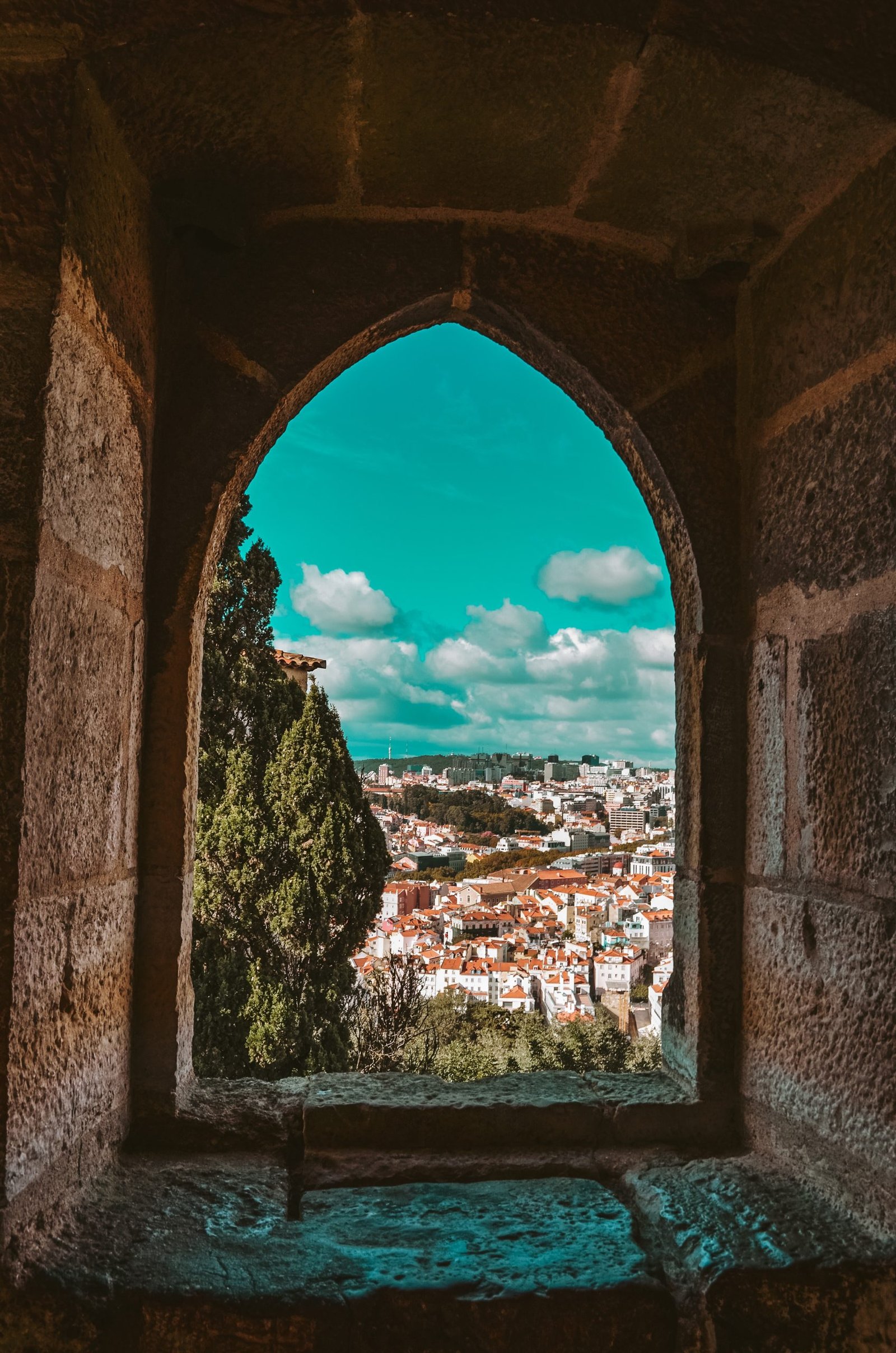 8. The National Palace of Queluz, Lisbon
Only about 15 minutes away from Lisbon the national palace of Queluz forms a major heritage site of Portuguese architecture and landscaping. It contains a noteworthy collection which reflects the royal taste during the eighteenth and nineteenth centuries – from Baroque, through Rococo, to Neoclassicism. This palace has also been the royal residence of two generations of Portuguese monarchs.
Location: Largo Palácio de Queluz, 2745-191 Queluz, Portugal
Open: Every day 9 am to 6 pm.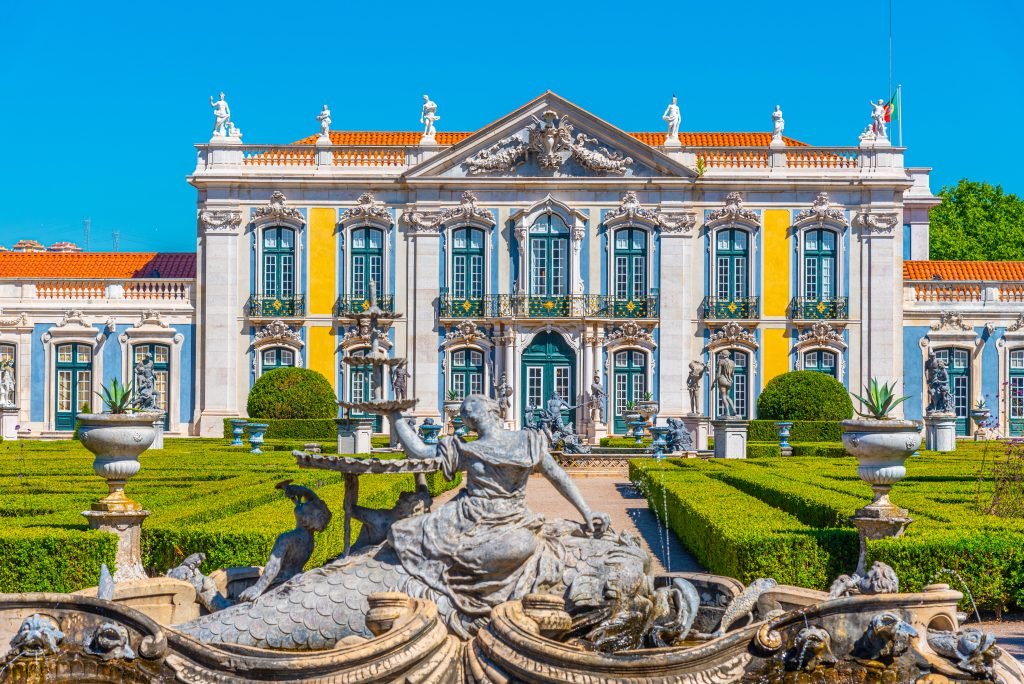 So have I convinced you to visit the architectural marvel of a city that is Lisbon? There is so much more this city has to offer which hasn't been covered in this post so I would highly recommend going and exploring this marvellous city yourself.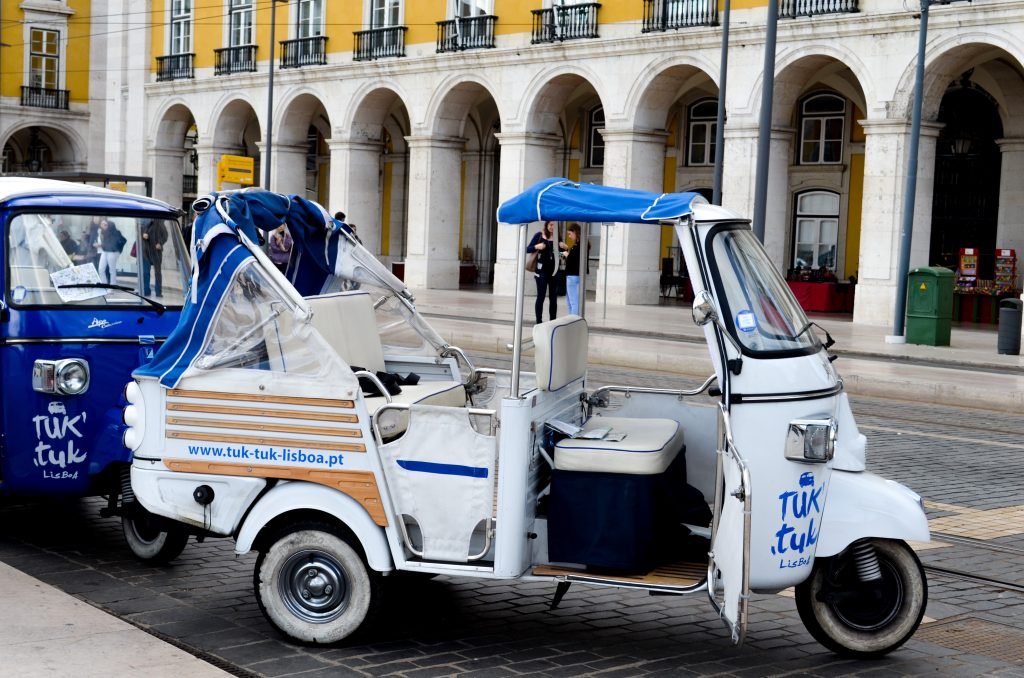 8 best things to do in Lisbon on a map
Here is a handy map of all these 8 places mentioned within this post. This can easily help you plan your route and check out all of these spots. Click on each number pin to learn more about the place.