I have been looking tirelessly for whats in and whats out this Fall season. For the most unusual year of all so far Autumn/ Winter trends may seem absolutely useless because where are we going right? But no, fashion isn't stopping, it is evolving. When this started in March who would have actually predicted the scale of this pandemic and how it will changed the way we do things? So many great brands have had to shut their stores and high streets are looking emptier than usual. Meanwhile many fashion houses have had to stall production of their Autumn/ Winter collections this year but there was so much creativity that we still saw this year with the return of 90's looks and much more.
So we are transitioning into Autumn next week and if you are wondering what Autumn 2020 will bring us i have to say "GOOD THINGS ONLY"
So here is a little Autumn/Winter 2020 forecast for you , lets do it!
Cardigan city
Long short , belted buttoned up, left open you name it, it's all coming back! So it's time to bring back your cardigans be it vintage or new.
I even took out that one super warm belted cardigan my mom got me 10 years ago that i almost never used because it was so bulky and short but here we are in 2020 and that bulkiness is in! All thanks to lock down and everyone embracing comfort clothing. So i am totally in for it!
Here are some really nice cardigans out there
Balloon Silhouette
We have already been making the most of balloon sleeves this year but balloons silhouette is here to stay. Think puffy hem lines and if you are loving the Lorna Luxe collection then go for puffy hem and sleeves. I think i can totally see this style striving through Winter 2020. Be careful though, this silhouette might not be for everyone.
Check mate
Checks , tartans , gingham everything you can think of gather it and don't shy away.
Check out this bargain coat at H&M that will not just get you though Fall but also winter.
Fringe
Another blast from the past! I used to be the queen of fringe in my high school days and my parents used to joke saying I don't get enough pocket money because i always wear torn clothes aka fringes. That was in the 90's and am i glad for this trend ? umm, i'm not sure! But it is back ladies.
Bottega Veneta have shown us that you can literally go EXTRA with the fringe and there is no harm in it. The bag is really nice however, if you are an average height person like me this will be a problem. I think a really plain outfit will do the justice to this bag.
There are few types of fringes i personally wouldn't wear but the variety out there is making it so much easier to work with all body types , mum bodies alike. Muahh!
The above Zara dress for example is quite flattering and because the fringe is wider it's much more structured which makes it easy to hide problem areas.
Leather
Think Neo – from Matrix for a second , and then think of long capes , trench coats , blazers, dusters and now add skirts and trousers to the list but all of it in Leather or Faux Leather. Have i got your attention?
I am loving Zara's new Faux Leather collection! It looks stunning and they have got the colours bang on!
This Alexander Mcqueen Blazer is giving me full warrior princess vibes.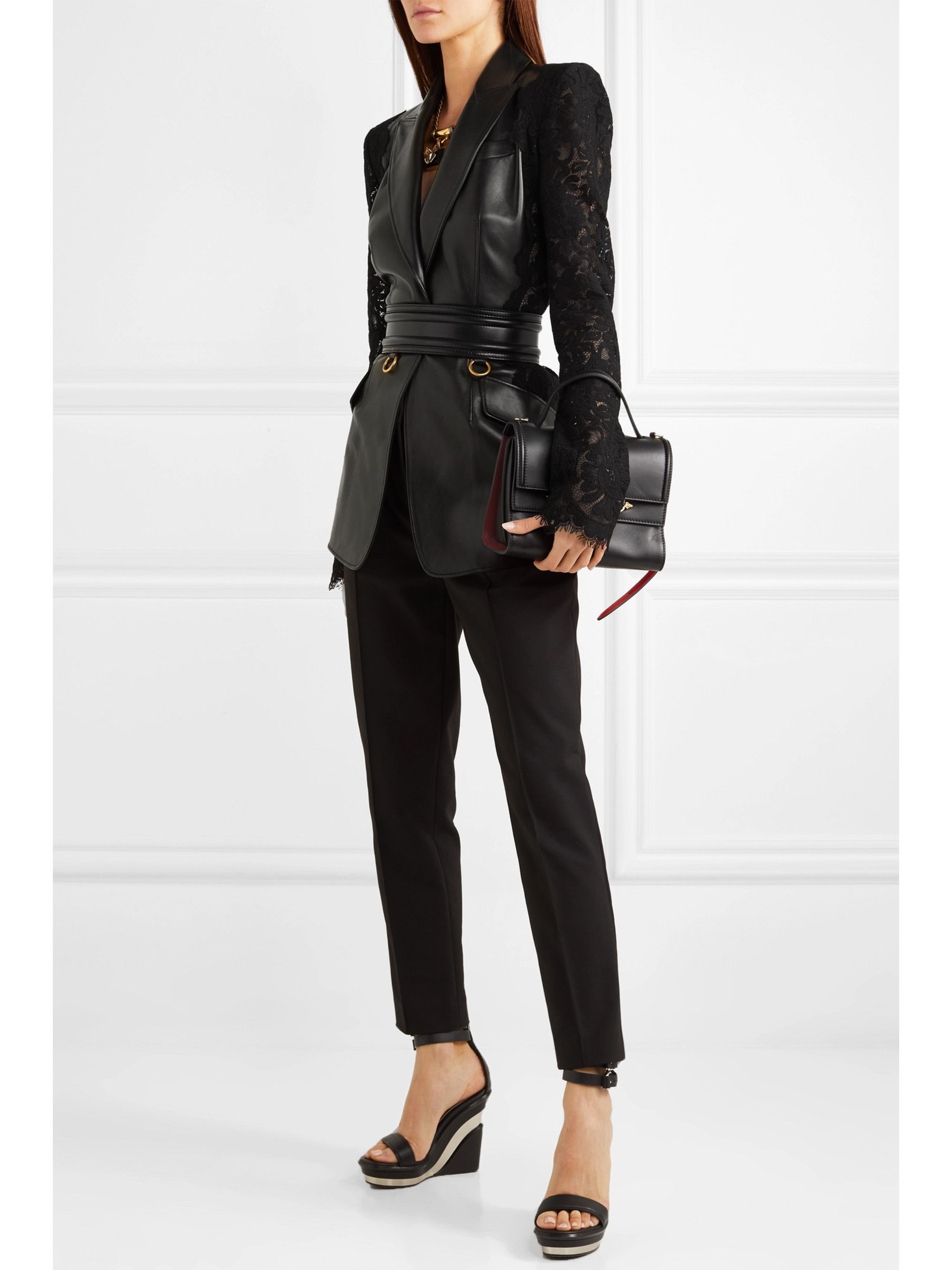 Suits
One thing i want to wear all this year are suits! This is the year when co-ords are totally at their best.
Think Monochrome but don't shy away from a bit of colour. This year we are all about adding a bit of pastels or bold colours like hot pink to our co-ords.
Red
I mean does red ever go out of fashion? Ask me i will say NEVER! Because i wear it every year 🙂
However, there is this pale red in Poplin fabrics that is being seen everywhere at the moment that you almost want everything in!
And then there is deep red – not Maroon but almost a deep blood red shade that is doing the rounds. I so like this one , its one shade of red i do not have in my wardrobe!
Do you need any more proof that red is the colour?
Black to Work
Guess who's back, back again? Full black looks! What better way to look expensive than all black?
Black is my go to most of the times when im not sure what i want to wear! In fact i am wearing it right now as i do a school run (LOL)
Knit WORK
Now we have already discussed Cardigans but hear me out. Anything Knit is the way to go! Think of the comfort of knits and the figure hugging silhouette that elevates your look no matter your size.
One thing i have been loving is how all ready to wear brands are incorporating Knits in everything. Be it skirts, dresses , trousers or crop tops , even bralettes and shorts the possibilities are endless.
Check out this comfort pair of trousers from Massimo Dutti it looks like a steal! A friend of mine introduced me to this label and i have been so fascinated by the clean crisp designs they have. Worth a look if you want something that will last long and is designed tastefully.
Chains
Lets talk accessories – Chains are a go to this year Gold mostly but we are breaking rules and going with gold and silver together too.
Exhibit A
Thinking of bags this Iconic Bottega Veneta Chain Pouch is the bag to have! If you want to take the chain look to the next level this is a bag to have. They come in lots of different colours so you will be spoilt for choice.
Ok, let me put it out there -if you are confused about what to give me for Christmas that's the bag right there.
Remember by no means is this an extensive list that you have to follow, you should always be true to your own style and if a trend comes along that matches your aesthetic go for it.
So are you excited for Fall season and ready to rock Autumn/Winter 2020?
Autumn is not a season it's a celebration! – Pooja